The 2018 midterm elections was a night of historic firsts for women of color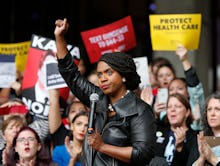 The 2018 midterm election season saw a historic increase in progressive candidates of color, who galvanized supporters in statewide and local races around the United States.
From Florida to New Mexico, these candidates brought platforms that stood for a range of issues such as affordable health care, gun safety and climate change.
Here is a look at the winners who are helping to change the face of American politics.
Sharice Davids
Sharice Davids became one of the first Native American members of Congress. Davids, an attorney and advocate, will represent Kansas' 3rd Congressional District, which covers eastern Kansas and includes Kansas City. Davids was up against incumbent Republican Rep. Kevin Yoder.
Juliana Stratton
Illinois state Rep. Juliana Stratton is the first black woman elected as Illinois lieutenant governor. Stratton ran with Democratic gubernatorial candidate J.B. Pritzker, who campaigned for an expansion of health care, job creation and early childhood education.
Jahana Hayes
Jahana Hayes is the first black woman elected to represent Connecticut in Congress. Hayes, the 2016 National Teacher of the Year, will be serving Connecticut's 5th Congressional District, which includes areas in the northwestern part of the state. Hayes, whose platform focused on education, immigration and criminal justice reform, was victorious over Republican candidate Manny Santos.
Ayanna Pressley
The first black woman elected to represent Massachusetts in Congress is Boston City Council member Ayanna Pressley, who faced no Republican on Tuesday. In the September primary, Pressley defeated longtime Democrat Rep. Michael Capuano. Pressley's platform was an "equity agenda" that would push for policies to reform public health, economic development, criminal justice and more.
Ilhan Omar
Ilhan Omar, a member of the Minnesota House of Representatives, is one of the first Muslim women elected to Congress and will serve Minnesota's 5th District in the House. Omar faced Republican candidate Jennifer Zielinski and ran on a platform focused on education, health care and immigration.
Rashida Tlaib
Rashida Tlaib is one of the first Muslim women elected to Congress and will represent Michigan's 13th Congressional District. Tlaib, a former member of the Michigan House of Representatives, faced two opponents in the race: Green Party candidate D. Etta Wilcoxon and Working Class Party candidate Sam Johnson. Tlaib's campaign priorities included enforcing a $15 minimum wage, standing up for unions and making tuition at public colleges, universities and trade schools free for working families.
Deb Haaland
Deb Haaland is one of the first Native American woman to win a seat in Congress. Haaland, a Democrat, will represent New Mexico's 1st Congressional District. In the race, Haaland faced Republican candidate Janice Arnold-Jones and Libertarian Party candidate Lloyd Princeton. Haaland's campaign priorities included "Medicare-for-all," the environment, immigration and education.
Letitia James
Letitia James is the first black woman elected to a statewide office in New York. On Tuesday, James won her seat for New York State Attorney General. James has been the New York City public advocate since 2014. Her platform covered issues that included protecting New York's clean water, combating opioid abuse and addiction and reducing student loan debt.