The cast of 'Hamilton' just released a perfect get-out-the-vote song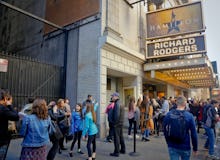 The New York City cast of the hip-hop historical musical Hamilton recorded a special song to get out the vote for Tuesday's midterm elections, and it might just be the uplifting call-to-action America needs right now. A video of the song, filmed backstage at Saturday night's show, was posted to Twitter on Saturday by assistant stage manager Deanna Weiner, according to ABC News.
The song is a revamped, parody version of the Hamilton track "The Election of 1800" — but instead of being about America's early democracy, it's about our current one, with lines like, "There's long lines and weather/ And citizens just plain forgetting/ Last midterm turnout was 37 percent/ Well, that's upsetting."
According to Weiner, who posted the video, the parody was written by Kurt Crowley, the show's current conductor. But it's not just the current New York cast of Hamilton that wants Americans to get out and vote on Tuesday — some members of the original Broadway cast also recorded a get-out-the-vote video that was posted to Twitter on Sunday.
Show creator Lin-Manuel Miranda, who originated the role of Alexander Hamilton, and original cast members Daveed Diggs and Christopher Jackson were among the stars who appeared in the other short video about the importance of voting on Tuesday.
It's no song, but it's a compelling clip. The original Hamilton cast members urged voters to check out the website BeltTheVote.com, part of a campaign by the greater theater community to encourage voting this election season. Of course stage actors aren't the only ones trying to get out the vote — movie stars, TV actors, athletes, singers and Oprah Winfrey have all lent their voices to the cause.