Democrats see racist 11th-hour messaging in 2018 midterm cycle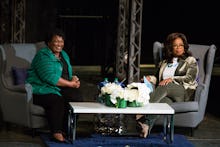 In their final pitch to voters before Election Day, Republican officials, candidates and right-wing groups banded together to present a coherent, unified and, in some cases, objectively racist 11th-hour message.
During a campaign event for Republican Florida gubernatorial candidate Ron DeSantis on Saturday, Agriculture Secretary Sonny Perdue characterized the impending midterm elections as "cotton-pickin' important." DeSantis' Democratic rival, Andrew Gillum, is a black man.
"Public policy matters," Perdue told rally attendees. "Leadership matters. And that is why this election is so cotton-pickin' important to the state of Florida."
Perdue's comments came weeks after DeSantis weathered controversy for instructing Florida voters not to "monkey this up" by voting for Gillum, who would become the state's first black governor if elected. "I hope you all don't mess it up," DeSantis warned.
Earlier in the week in nearby Georgia, an overtly racist robocall went out amid a final push by Democrat Stacey Abrams to become the first black woman governor in American history.
"This is the magical Negro Oprah Winfrey asking you to make my fellow Negress Stacey Abrams the governor of Georgia," the robocall begins, mocking the famous talk show host for campaigning for Abrams in the state.
The call, which also labeled Abrams "a poor man's Aunt Jemima," was reportedly circulated by The Road to Power, an anti-Semitic white nationalist podcasting website that has also targeted Gillum. The group, which was previously denounced by the Anti-Defamation League, is not affiliated with Brian Kemp, Abrams' Republican opponent and Florida's current secretary of state. In a statement Friday, Kemp strongly denounced the call and "any person or organization that peddles this type of unbridled hate and unapologetic bigotry."
In a separate statement to the Hill, Abrams' campaign condemned the call and derided Kemp for "suddenly [deciding] to find a conscience" as polls characterized the race as a toss-up. Kemp has been repeatedly accused in recent months of attempting to disenfranchise black and minority voters through policies that disproportionately target their voter registration applications.
"Brian Kemp has only now suddenly decided to find a conscience as polls are tightening and Georgia voters are making it clear that they reject the kind of hate he and his allies have been spewing around the state," Abrams spokesperson Abigail Collazo said. "These automated calls are being sent into homes just days before President Trump arrives, reminding voters exactly who is promoting a political climate that celebrates this kind of vile, poisonous thinking."
The racially charged language employed against candidates like Gillum and Abrams mirrors the rhetoric favored by President Donald Trump, who has spent the past week promoting an attack ad CNN, NBC and FOX News have deemed too racist to run on cable news.
The ad in question depicts a group of migrants, who are currently marching toward the southern border of the United States in hopes of obtaining asylum, as a band of criminals and invaders in an apparent attempt to gin up outrage among the president's anti-immigrant base.
Despite initially airing the 30-second ad during Sunday Night Football, NBC News later walked back its decision, announcing Monday that it would no longer allow the spot on its airwaves.
"After further review, we recognize the insensitive nature of the ad and have decided to cease airing it across our properties as soon as possible," a spokesperson for NBC said in a statement, according to CNN.
Gillum was diplomatic in response to Perdue's "cotton-pickin' important" comments: "Listen, we're trying our very best to end this race on a high note," he recently told CNN. "As I have said throughout the campaign, we're working to give voters something that they can vote for and not just against."