The midterm elections are over — and the potential 2020 field is already looking crowded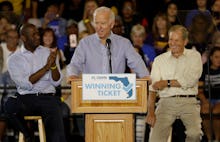 Now that the 2018 midterms are behind us, and Democrats have taken the House of Representatives, the political class is of course looking ahead to the next major election in 2020.
While the midterms gave voters a chance to elect progressives who could provide a check on President Donald Trump's policies, the focus now turns to the Democrats who could unseat Trump himself — and plenty are already signaling they're vying for the position.
Though the only Democrat to officially announce his candidacy is Maryland Rep. John Delaney, a number of expected 2020 contenders are making moves that hint at potential presidential bids, which could soon be announced now that Election Day is over.
Here's where the potential field of 2020 candidates currently stands.
Republicans
Donald Trump
Trump has been open about his intentions to run in 2020, having announced his re-election campaign earlier than any other first-term president in history. Trump filed paperwork with the Federal Elections Commission to run in 2020 just hours after his January 2017 inauguration, held his first fundraiser in June 2017 and announced his "Keep America Great" campaign slogan in March.
John Kasich
Ohio governor and Trump critic John Kasich has been evasive about his post-gubernatorial plans.
"I don't know," Kasich said Monday on the View in response to a question about his presidential aims. "I mean, all of my options are on the table. But I think for the first time, there is a legitimate chance for a third-party candidate."
Kasich is also planning to travel in November to New Hampshire, a state that typically holds the first presidential primary.
Ben Sasse
Nebraska Sen. Ben Sasse, another Trump critic, has yet to rule out a 2020 run, though he told CNN in September the odds were low.
Sasse is reportedly being considered as a candidate by conservative commentator Bill Kristol, who has said he plans to run a "war machine" against Trump in the 2020 primaries. Kristol is also considering backing Kasich and Arizona Sen. Jeff Flake, who said in October that while he hopes Trump has a primary challenger, "I don't see that happening in my case."
Democrats
John Delaney
Maryland Rep. John Delaney officially announced his candidacy in July 2017 in an op-ed for the Washington Post. The businessman and moderate Democrat, who is self-funding his campaign, told the Guardian in October he was focusing on increasing name recognition among Iowa caucus voters and expected to have 25 full-time staff members in Iowa alone by the end of 2018.
Cory Booker
New Jersey Sen. Cory Booker is widely considered to be paving the way for a presidential run amid visits to key primary and swing states to campaign for midterm candidates.
"Of course the presidency will be something I consider," Booker told New York magazine in September.
The New Jersey government has paved the way for Booker's potential bid, as Gov. Phil Murphy signed legislation Thursday allowing a candidate to run for both the Senate and the presidency simultaneously.
Joe Biden
Former Vice President Joe Biden is currently considered a frontrunner in the 2020 race, although he told CBS in October that his decision would be based largely on his family, including the 2015 loss of his son, Beau Biden. However, Biden has been on the campaign trail in recent weeks, making stops in Iowa and other key primary states.
Bernie Sanders
Independent Vermont Sen. Bernie Sanders is another heavy midterms campaigner who could have 2020 ambitions. Sanders made a nine-state campaign tour during the 2018 midterms, in which he reportedly broadened his message to account for his failure among voters of color in 2016. In addition, former Sanders campaign manager Jeff Weaver said in May that the senator was considering running again.
Elizabeth Warren
The New York Times reported in July that Massachusetts Sen. Elizabeth Warren was, at that point, making the biggest efforts of any potential presidential candidate, reaching out to officials in key primary states and holding dinners with policy experts. Warren's recent DNA test to confirm her Native American heritage was largely seen as a rebuke to Trump, who often refers to Warren with the derogatory nickname "Pocahontas."
Warren "promise[d]" constituents at a September town hall meeting she would "take a hard look at running for president" after Election Day.
Kamala Harris
Like other contenders on this list, progressive California Sen. Kamala Harris has traveled to key states in advance of a potential presidential run. Politico reported in October that Harris' advisers were already devising a strategy to target voters in diverse states for the 2020 primaries.
Kirsten Gillibrand
New York Sen. Kirsten Gillibrand largely held off on spending during her 2018 re-election campaign, instead saving her money to perhaps jumpstart a 2020 bid, the New York Times speculated in October. Gillibrand focused on stumping for midterm candidates in other states rather than campaigning for herself, and her PAC "Off the Sidelines" has netted her political allies across the country by supporting female Democratic candidates.
Michael Bloomberg
Former New York City Mayor Michael Bloomberg officially switched his party affiliation to Democrat in October, and reports suggest he's already told allies of his intentions to run. Ahead of Election Day, Bloomberg purchased a $5 million ad buy in which he touted Democratic candidates — and his own centrism as an alternative to Trump.
Hillary Clinton
While she isn't expected to run, former presidential candidate Hillary Clinton doesn't seem to have fully ruled out the possibility at this point. During an interview with Recode in October, Clinton reportedly hesitated before saying "no" when asked whether she wanted to run again.
"Well, I'd like to be president," Clinton added. "The work would be work that I feel very well prepared for having been at the Senate for eight years, having been a diplomat in the State Department, and it's just going to be a lot of heavy lifting."
Journalist Kara Swisher, who interviewed Clinton, later clarified on Twitter that she took Clinton's comments to mean the former secretary of state was "implying she wishes she were president but doesn't relish running again."
Amy Klobuchar
Minnesota Sen. Amy Klobuchar has emerged as a potential 2020 contender after gaining national attention during the Senate confirmation hearings for now-Supreme Court Justice Brett Kavanaugh. Klobuchar is broadly popular with Minnesotans and is increasing her travel outside her home state, the Washington Post noted, including a trip to Iowa.
Steve Bullock
Moderate Montana Gov. Steve Bullock has signaled a potential 2020 run amid trips to key primary states New Hampshire and Iowa. In an August interview with CNN, Bullock announced his support for an assault weapons ban — despite Montana's more gun-friendly views — and said he was currently "listening" to people around the country.
Michael Avenatti
Lawyer Michael Avenatti, who is best known for representing adult film star Stormy Daniels in her now-dismissed lawsuit against Trump, has said he is "seriously considering" a presidential run. The lawyer told the Guardian in October he would embrace "smashmouth tactics" in a potential presidential bid, echoing an Iowa speech in which he said "When they go low, I say, we hit harder."
Avenatti also told the Guardian he was learning basic campaign skills like speechmaking. On Thursday, he released a political ad aimed at increasing voter turnout in the 2018 midterms.
Jeff Merkley
Oregon Sen. Jeff Merkley confirmed in June he was considering a presidential run. He has since endorsed and financially supported candidates in early voting states, including hiring staff to assist midterm candidates in New Hampshire and Iowa. Merkley would be another progressive candidate for voters to consider; he was the only senator to endorse Sanders in 2016.
Tom Steyer
Along with a multimillion-dollar effort to impeach Trump, billionaire Tom Steyer is reportedly considering trying to oust the president himself. Steyer told the New York Times in October he would make a decision about 2020 after the midterms; in August, CNBC reported Steyer was already making moves toward starting a campaign, including undertaking research efforts to gauge support for his policies.
While these politicians and high-profile Democrats are currently some of the most talked-about candidates in a potential 2020 field, they're not the only ones considering a run. Other possible Democratic candidates include billionaire Mark Cuban, former Maryland Gov. Martin O'Malley, former Virginia Gov. Terry McAuliffe, Colorado Gov. John Hickenlooper, former Housing and Urban Development Secretary Julián Castro, Los Angeles Mayor Eric Garcetti and Mitch Landrieu, former mayor of New Orleans.
Though his name repeatedly came up as a potential 2020 contender during the 2018 midterms, Texas Rep. Beto O'Rourke completely ruled out a 2020 presidential run during a 60 Minutes interview Sunday.
"I'm saying that if elected to the Senate, I'll serve every day of that six-year term, that I'm not lookin' at 2020," O'Rourke said. "And, in fact, [I] am completely ruling that out, [I'm] not going to do that."