Election Day 2018: All the free stuff you can get with your vote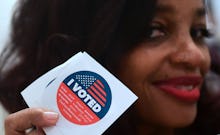 Did you need another incentive to vote in Tuesday's midterm elections? Was the future of our country not enough to get you to the polls? How about the fact that Taylor Swift wants you to do it?
No? Still not enough? To each their own. Will a nice freebie motivate you to vote? After all, what's more American than doing something for the goodies? Yes? That works? You are a true patriot.
Brands — particularly food brands — have gone hard on Election Day in previous years, with Krispy Kreme dishing out free donuts, 7-Eleven serving up free coffee and more. However, it's been widely reported recently it's actually against the law to entice voters with free stuff because it may be possible to sway votes this way.
"It is illegal in elections when federal candidates are on the ballot to offer free stuff (including free food or drink) to people upon proof of voting," Rick Hasen, a law professor at University of California, Irvine, told Nation's Restaurant News. Those found in violation of the law could be fined up to $10,000 or face up to five years in prison — or both, the publication reported.
Still, some companies are following freebie tradition in the land of the free: To do it legally, they'll have to give goodies to everyone on Election Day, not just those sporting an "I voted" sticker.
The deals below are applicable countrywide, so be sure to check for local deals, too. Many cities are offering free rides on public transportation and bike share access so people can get to the polls. And if you scour intently enough, you might be able to snag an illicit free donut or two.
Free fries
To celebrate your patriotism or to possibly to fuel your stress eating, Shake Shake is offering free fries on Election Day. You can get them with your in-app order or by showing your sticker to an employee in store.
Free cupcakes
Itty-bitty cupcake company Baked by Melissa is encouraging everyone to vote by giving away some of its cute baked goods.
"[A]ll customers who walk into Baked by Melissa stores can show their 'I voted' sticker and receive a free cupcake," a brand spokesperson said in an email.
The cupcake company isn't breaking any rules: Anyone can get a free cupcake, whether they lost their sticker, voted absentee or are just in the mood for a sweet treat.
Free cookies
Potbelly sandwich chain is giving customers a free cookie with the purchase of an entree on Tuesday and Wednesday. No proof of voting is required.
Free moisturizer
Hydrated skin is a thoughtful, if not random, reward for exercising an American right. Dermatologist Sandra Lee — aka Dr. Pimple Popper — is giving out a special code for free moisturizer in exchange for voting selfies.
"Post a selfie in line at the polls or with your snazzy 'I voted' sticker in your feed and we'll send you a special code for a free daily moisturizer — just be sure to tag us @slmdskincare and use the hashtag #MySkinMyVote," the dermatologist's Instagram page reads.
Free concerts
The initiative #iVoted is doling out a ton of free concert tickets to anyone who shares a photo of themselves voting on Instagram. Some of the tickets are first come, first served, while others will be raffled off. The giveaways are part of a larger initiative to get young people to the polls, Complex reported in October.
Artists like Good Charlotte, Drive-by Truckers and Iron & Wine are participating, and some venues are even giving out free drinks to voters. The rules vary depending on the state and venue, so visit the website to see what shows are available near you and what rules apply.
Free Frank Ocean merchandise
If you're in Dallas, Houston, Miami or Atlanta, you can score some free Frank Ocean-related merchandise by bringing of photo of yourself voting.
Free child care
Many YMCAs are offering a couple hours of free child care so voters can head to the polls kid-free. Check with your local YMCA to see if it's offering the deal.
Free rides to the polls
Uber is offering a $10 discount for those headed to the polls with the code VOTE2018. Meanwhile, Lyft is offering 50% off rides to the polls (get your code here). Lyft will also be giving 100% free rides to underserved communities with funding from nonpartisan, nonprofit partners. Both rideshare apps will have a feature to help voters finding their polling station Tuesday.
Nov. 6, 2018, 11:54 a.m.: This story has been updated.