Michael Phelps speaks out about substance use, mental health and getting help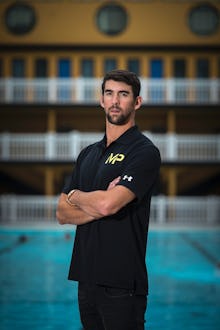 Superstar athlete Michael Phelps, the winningest Olympian in history, is getting vulnerable. Phelps, who has officially retired from his Olympic career, has recently turned to advocacy work — spreading the word about water conservation and his personal struggles with mental health.
Phelps spoke to Mic's Kendall Ciesemier in New York City in October, at a mental health conference for the online therapy service Talkspace. Phelps sits on the Talkspace board, is a shareholder in the company and appeared in a series of Talkspace television ads.
The champion swimmer told Mic that the first time he realized he was grappling with mental health issues was when he was around 18 or 19 years old, but he didn't tell his coaches or his parents what he was dealing with. "It could have been earlier, I don't know, but I think that was my first real, like I like to say acting out, like going crazy," Phelps said.
"I probably brushed [it] under the rug and then just got right back into the pool and what I was doing in the pool [would] just distract anything else that was going on. So that was probably when I really started just stuffing everything down and not letting it come up because I just I didn't know what it would do. I didn't know how I would react to dealing with it."
Phelps said that, as an elite athlete, he felt pressure to hide the fact that he was struggling. "I never said anything to anybody. I basically just carried it on and tried to handle it myself," Phelps told Mic. "It's probably just because I'm an athlete and we're supposed to be — I don't want to say perfect — but we're not supposed to have problems."
In 2014, Phelps was arrested and charged with a DUI — it was his second. At that point, he had already made headlines for a leaked photo showing him smoking marijuana. Phelps told Mic that his substance use had to do with his unresolved mental health issues. "I just self-medicated because I was just running from whatever I didn't want to face," he said. "I've gotten two DUIs."
But things changed once Phelps started opening up publicly about his own depression in 2016. Now he's an advocate who encourages others to seek treatment — and he is calling on the U.S. Olympic Committee to do more to support athletes who are struggling, and to pay attention to their athletes' mental health, not just their physical conditioning.
"I'd like to see them actually care about it," Phelps said when asked what changes he would want to see from the USOC. "I've never seen anything that shows that they care. And you know, I've been on the national team for 20 years. I haven't seen it once, you know, and it's, I mean, I guess in 2016 we had one therapist that traveled with us, but that was the first time I've ever seen it."
But when asked whether he wishes things had been different in the sport for him when he was younger, Phelps wavered. "It's a hard question because, you know, I often think if I did, my career would've been different or could have been different," Phelps said. "So that's why I say I wouldn't change anything that I went through because I've [had] the chance to be who I am now."
Check out episode 37 of Mic Dispatch — only on Facebook Watch.
To catch future episodes of Mic Dispatch, follow Mic Dispatch on Facebook Watch. For more stories about the show, visit the Mic Dispatch collections page.