Mic Daily: A rash of racist messaging at the 11th hour before Election Day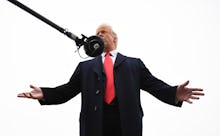 Good evening folks, and happy Election Day eve. This is your friendly reminder to please take some time Tuesday — if you can — to vote in the midterm elections. You can go to Vote.org to find out your polling location.
Here are the top five stories out of Mic today.
More women and people of color are running for office in the 2018 midterms than ever before — but representation is still lagging behind. In Alaska, for example, there's a gap of about 31% in representation of people of color in the state legislature.
As the midterms loom, Republican officials and right-wing groups are employing overtly racist messaging in a last-ditch effort to drum up support.
Yes, that includes Trump's racist attack ad that's know been scrubbed — after it was shown to millions — from NBC and Fox News.
Can the Trump administration ask about a person's citizenship status on the 2020 census? A new trial beginning Monday — that may eventually wind up at the U.S. Supreme Court — will eventually answer that question.
In the wake of the cancellation of Megyn Kelly's NBC talk show — which came days after she defended blackface in Halloween costumes — the former Fox News anchor may get a massive payout in the neighborhood of $69 million.
If the deal goes through, Kelly will join a long list of executives and other high-profile figures who got millions to stop doing their jobs.
And now for something that won't make you want to rip your hair out.
Mic's own Stephanie Wu, who moved from Taiwan to New York City over a decade ago, has made a pleasant discovery: Taiwanese food in the city is finally good. And there's a lot of it.
Feast your eyes — and try not to get too hungry.
Mic Daily is Mic's newsletter that cuts through the noise and lands in your inbox every weekday. We carefully curate each edition to send you a cross section of our most vital stories of the day.