As the midterm cycle ends, a grassroots battle against Trump's energy policy heats up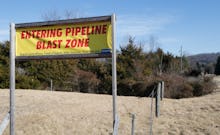 As the midterm election cycle enters its final days, a battle over Donald Trump's energy policy from grassroots organizers is just beginning.
The Atlantic Coast Pipeline is a proposed 42-inch-diameter pipeline that will transport fracked natural gas along a 600-mile path, which snakes from West Virginia through Virginia to eastern North Carolina. It received necessary permits under the clean water act to begin construction in Virginia — the announcement came after 5 p.m. on Friday, Oct. 19.
The ACP is a joint venture between Duke Energy, Piedmont Natural Gas, Southern Company Gas and Dominion Energy, which is the majority stakeholder. The pipeline rose to energy policy prominence when it became the only pipeline on President Donald Trump's list of 50 national security infrastructure priorities, which published shortly after his January 2017 inauguration.
The pipeline's origins date back to September 2013, when the Obama administration granted Dominion Energy a permit to export gas to Japan and India. The regulatory process began the following year. Construction has already begun in North Carolina and West Virginia, though progress has been stilted by court decisions.
While broader knowledge of the pipeline went national January 2017, it's always been a local issue in Virginia, according to Jennifer Lewis, an activist who organized against the ACP "from day one." She's currently running to represent Virginia's 6th Congressional District.
Lewis said she and many of her fellow Virginians view the pipeline as a threat to the Old Dominion's environmental integrity and an example of local, state and national politicians — of both parties — being directed by corporations and their donations to work against the interests of locals, not only in Virginia but across the country.
"[It was] clear that impacted landowners and the impacted community were not being heard by our elected officials," Lewis said in an interview of the planning for the pipeline.
ACP LLC, the company that manages the pipeline, launched lawsuits this year for eminent domain in Virginia, causing an uproar among landowners who fear they will be compelled to give up their land if it lays on the route of the pipeline. Others have expressed ire at the environmental impact the pipeline could have, especially around water.
The Virginia chapter of the Sierra Club, a national environmental organization, said the ACP "could damage water quality with increased sediment and chemical pollution," while the Chesapeake Bay Foundation has "forcefully expressed concerns" about the ACP's threat to watersheds.
As concerns grew, people "were looking for someone to stand up for the environment and private property rights, and I was compelled to lead that fight," Lewis said.
But battling Dominion Energy in Virginia is no easy task. The energy company has a long history of hefty donations to Virginia lawmakers on both sides of the aisle. In fact, the firm is the largest corporate contributor to Virginia politicians.
In the 2018 electoral cycle, Dominion has donated roughly $254,000 to Republicans and $157,500 to Democrats in national races, according to the Center for Responsive Politics, a group that tracks money in politics.
Lewis has taken none of it. She pledged not to accept money from Dominion or the fossil fuel industry, she said.
"It's really an issue of trust," Lewis said. Taking money from energy companies like Dominion means "you vote in Dominion's interest," which is synonymous with voting "against a clean environment. That's not representing the everyday people of the district."
State surveillance of activists
While energy companies don't have the people's "best interests" at heart, Lewis said, they are curious about how people are willing fight their interests.
Organizers against the ACP, as well as and the EQT Corporation's Mountain Valley Pipeline, which will transport fracked natural gas 304 miles across West Virginia and Virginia, have been under surveillance, according to the Richmond Times-Dispatch.
Emails obtained by Times-Dispatch show Assistant U.S. Attorney Heather Carlton, offering to "share intelligence" with Sheriff Hank Partin of Montgomery County as part of her job is to help state authorities "in their domestic and international terrorism efforts."
Carlton then invited Partin to a Nov. 30, 2017 meeting at the U.S. Attorney's Office in Roanoke, Virginia, with the Virginia Fusion Center, a space where local, state and federal authorities meet to gather and share intelligence, in which she would present "intelligence and other information" about issues surrounding the ACP and the MVP, the Times-Dispatch reported.
Environmental activists and movements have long been targeted by the FBI and other counterterrorism forces, and might be facing an increased crackdown under the Trump administration, Mic previously reported.
William and Lynn Limpert, Virginia residents whose land in the state's Little Valley region is in the pathway of the ACP, have become activists. Over 300 old growth trees on their property would be cut down and the threat to water quality is too great, they said. They weren't activists before, but the ACP has forced their hand.
The Limperts began organizing events on their land, such as camps to educate activists on methods to peacefully resist the pipeline and pilgrimages along its proposed route. They said in an interview that even before the news about Fusion Center surveillance broke, they were wary of certain attendees at their camps.
Meanwhile, the MVP has seen more construction than the ACP, and correspondingly, more on-the-ground protests. Mara Robbins, an activist who considers herself a water protector and has assisted tree sitters attempting to block the MVP's path, said in an interview that suspicious and unknown people are regularly seen at meetings and protests. She suspected them of spying on the movement.
"Having literally fought on the ground … since they started construction, I actually know many of the people with Global Security," Robbins said, referring to the private security firm hired by MVP.
A multi-headed snake
Robbins claimed she's seen Global Security sharing "tents" with local and state law enforcement at protests. The collusion isn't just between private and public security, she said — even the pipelines are now cooperating, confirming her long-held suspicions.
Information about the private security firm is scare. Mic sent a request for comment to Global Security, but they did not respond by publication time.
These efforts finally merged in August, in a somewhat roundabout way. In April, EQT announced a 70-mile expansion of the MVP into North Carolina, which will carry gas from the the pipeline's main line and deliver it to Rockingham and Alamance counties, near the border with Virginia.
PSNC Energy, a subsidiary of SCANA Corporation, a South Carolina-based energy corporation, purchased a 30 percent stake in that 70-mile extension in August. And in January, news broke of a $14 billion deal for Dominion to purchase SCANA, which had seen trouble after failed nuclear expansion project.
So, PSNC's purchase of a stake in the 70-mile Southgate expansion means that Dominion now owns a portion of the MVP — once thought to be a competitor — through a network of subsidiaries.
EQT and Dominion Energy did not respond to Mic's request for comment.
Energy company cooperation, along with state and national government signing construction permits and doling out support — regardless of the party — has withered Robbins' faith in electoral politics. However, after four years of watching grassroots efforts go from "opposition to resistance, to what I consider a movement at this point, I believe we've hit critical mass," she said.
A majority of democratic candidates for Virginia's congress, like Lewis, pledged not to take money from Dominion in November elections.
Elected officials will have to listen, eventually, Robbins believes. Whether or not anti-pipeline voices win out in these November elections, the "people aren't going to take it."
Lewis, who is facing Republican Ben Cline in Virginia's 6th district on Tuesday, said that while members of the GOP — even Trump — have supported the ACP, Virginians mostly think of Democrats when the pipeline is discussed.
Virginia's current and previous governors, Ralph Northam and Terry McAuliffe, are both Democrats. Northam has received almost $200,000 in donations from Dominion Energy through 2017, according to the Virginia Public Access Project, a nonprofit that tracks political spending in Virginia. The News Leader, a local paper in Staunton, Virginia, reported that McAuliffe received $75,000 over a 10-year period as of 2017. McAuliffe was governor of Virginia from 2014 to January 2018.
"Trump doesn't come up much in these conversations aside from pointing out how elected Virginia Democrats are siding with the president on this aspect of energy policy," Lewis said. She hopes she gets the opportunity to change that.