A running list of the last-ditch efforts to sway voters in the 2018 midterm elections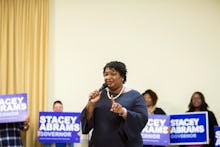 In the last hours before the returns roll in for the midterm elections, some politicians are showing just how far they'll go to win with voters in several potentially history-making races in 2018.
A record-breaking number of women are running to join the House, Senate or to be governor. Other historic moments could lie ahead: A win for New York's Alexandria Ocasio-Cortez would make her the youngest woman to enter Congress. Victory for Minnesota's Ilhan Omar would make her the first Somali-American to have a seat in Congress. Andrew Gillum could become the first black governor of the state of Florida. If Georgia's Stacey Abrams defeats Georgia Secretary of State Brian Kemp, she will be the first black woman governor in the United States.
In an effort to win last-minute votes, some politicians have resorted to 11th-hour attacks and malicious ads to sway voters. Some of this messaging has ranged from simply mean comments to flat-out racism. On Election Day, Mic will be updating this page with breakdowns of the worst efforts by politicians, activist groups and more leaders. Check back here for updates.
Florida
Andrew Gillum, the black Democrat running to be Florida's next governor, has been the target of hate speech from his opponent, Republican Ron DeSantis. At a campaign rally for DeSantis Saturday, agriculture secretary and former Georgia governor Sonny Perdue used the phrase "cotton-pickin'" to describe the importance of this specific election.
"Public policy matters," Perdue said. "Leadership matters. And that is why this election is so cotton-pickin' important to the state of Florida. I hope you all don't mess it up."
Georgia
Just before the election, Democratic candidate for Georgia governor Stacey Abrams withstood attacks from The Road To Power, an anti-Semitic white nationalist podcasting site. The group made calls to voters where they posed as Oprah (who has endorsed Abrams' campaign). The call relied on racist rhetoric to sway voters.
"This is the magical Negro Oprah Winfrey asking you to make my fellow Negress Stacey Abrams the governor of Georgia," the robocall stated. The call also called Abrams a "poor man's Aunt Jemima."