Live blog: Midterm elections 2018 results, updates and analysis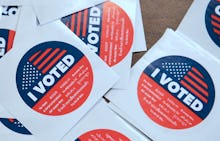 It's finally here! After two years in Trump's America, Election Day 2018 has arrived. And in just a few short hours we'll have results in key state legislative, House, Senate and gubernatorial contests all across the country.
Democrats are hoping they rode a wave of anti-Trump energy to win control of key offices across the country that can serve as a check on President Donald Trump and his administration. All signs point to Democrats having a good night. But how good will it be? Stay with us as we provide live updates on election results, trends and analysis.
12:06 p.m. That's a wrap!
Well, it was an exciting night, with some expected and some unexpected results. Thanks for following along and check Mic tomorrow for more news and analysis.
11:51: Another Senate Democrat falls
Democratic Sen. Claire McCaskill lost re-election in Missouri, falling to her opponent, Republican state Attorney General Josh Hawley.
McCaskill is the third Senate Democrat running in a state Trump carried to lose re-election, following North Dakota's Heidi Heitkamp and Indiana's Joe Donnelly.
Democratic Sen. Bill Nelson also trails in Florida against his opponent, GOP Gov. Rick Scott.
11:32 p.m.: Key Democratic senators coast to re-election, but it's not enough to flip the chamber blue
Democratic Sens. Amy Klobuchar of Minnesota, Mazie Hirono of Hawaii and Joe Manchin of West Virginia hung onto their seats, but it wasn't enough to turn the chamber blue.
Flipping the Senate had always been a long shot for Democrats, since many of the most competitive Senate seats up for grabs had been in territory that indisputably favored Republicans. But on Tuesday the GOP picked up two big wins early on, nabbing Indiana Sen. Joe Donnelly and North Dakota Sen. Heidi Heitkamp's seats.
11 p.m.: Gillum concedes Florida's governor race as polls close in the rest of the West
Democrat Andrew Gillum has conceded Florida's governor's race to Republican Ron DeSantis, a stunning defeat that defied polling in the state.
"I believe in the long run, good always wins out over evil," Gillum said in his concession speech.
Meanwhile, polls are closing in California, Oregon and Washington — where Democrats have more opportunities for House pickups.
Democrats are projected to win control of the House, while Republicans are likely to expand their majority in the Senate.
10:41 p.m: Polls close in four more states
Polls just closed in four more states, including California, Washington, Oregon and Hawaii. Only Alaska polls remain open — those will close at midnight Eastern.
California in particular has several competitive House seats up for grabs — more than half a dozen of which Democrats are looking to add to their growing total as they secure their House majority.
10:25 p.m: Kevin Cramer defeats incumbent Sen. Heidi Heitkamp in North Dakota
Incumbent Democratic Sen. Heidi Heitkamp lost to Republican challenger Kevin Cramer in North Dakota, CNN reported, confirming Democrats' fears that the seat would flip.
Heitkamp fell sharply in the polls after she publicly announced her decision to vote against Trump's second Supreme Court nominee, Brett Kavanaugh, after allegations of sexual assault emerged against him.
10:17 p.m.: Democrat Laura Kelly wins Kansas gubernatorial race
Democrat Laura Kelly has defeated Republican Kris Kobach in a tight Kansas gubernatorial race, CNN projected.
Kelly, a state senator, will be the first Democrat to serve as governor of Kansas since 2009.
She bested Kobach, Kansas' secretary of state and a top Trump ally who ran the president's controversial voter fraud commision.
10:06 p.m.: Democrats win an upset in Staten Island, New York
File this one under the first real House upset of the night: Democrat Max Rose, a veteran, ousted GOP Rep. Dan Donovan in New York's Staten Island-based 11th District.
This race was not on prognosticators' list of districts most likely to flip, but NBC News projects that Rose will be coming to Congress.
10:05 p.m.: Democrat and veteran Mikie Sherrill picks up New Jersey House seat
Democrats got yet another pickup as Mikie Sherrill, a Navy veteran and prosecutor, picked up New Jersey's 11th District. This seat had long been held by Republican Rep. Rodney Frelinghuysen, part of a dynastic political family in the Garden State. Frelinghuysen is retiring.
Sherrill was one of a number of female Democratic veterans running for Congress.
10 p.m.: Polls close in parts of the West
Another round of polls have closed in Montana, Idaho, Utah and Nevada.
Montana and Nevada play host to two critical Senate races — Democratic Sen. Jon Tester is trying to hold on, while GOP Sen. Dean Heller is trying to survive.
In Utah, 2012 Republican presidential nominee Mitt Romney looks poised to head to the Senate. And in Idaho, look for the results on a ballot initiative to expand Medicaid.
9:50 p.m.: Democrats win toss-up Florida race
Rep. Carlos Curbelo, a Miami-based Florida Republican, lost re-election Tuesday night in the 26th District to Democrat Debbie Mucarsel-Powell — giving Democrats a pickup in a seat that was rated a toss-up.
It's another good sign for Democrats' hopes at winning control of the House.
9:42 p.m.: Colorado elects first out gay male governor
Democratic Rep. Jared Polis has been elected governor of Colorado, making history as the first out gay man elected governor in the country.
Polis' win keeps Colorado's governor's mansion in Democratic hands.
Meanwhile in the House, Democrats flipped two more seats they were expected to pick up, both in Pennsylvania. In the state's 5th District, Democrat Mary Gay Scanlon picked up a seat, and Democratic Rep. Conor Lamb ousted GOP Rep. Keith Rothfus in Pennsylvania's 17th District.
This puts the number of Democratic pickups so far in the House at four.
9:37 p.m.: Fox News projects Democrats will flip the House
Barely any races are called yet, but Fox News has officially predicted that Democrats will net the 23 seats they need to win control of the House.
That would be a huge win for Democrats, who would have the ability to investigate Trump and thwart his agenda.
9:20 p.m.: Republican Marsha Blackburn wins in Tennessee
GOP Rep. Marsha Blackburn defeated Democrat Phil Bredesen in Tennessee in another blow to Democrats who hoped to pick up this seat. The seat, held by retiring GOP Sen. Bob Corker, will stay in Republican hands.
With this win, Democrats' chance of taking control of the Senate is effectively over.
Meanwhile, Democratic Sen. Joe Manchin has won re-election in West Virginia, a win that comes as a sigh of relief to Democrats.
In Florida, Democratic Sen. Bill Nelson narrowly trails GOP Gov. Rick Scott, which would be a huge blow for Democrats.
Also problematic for Democrats is that Democratic Sens. Heidi Heitkamp in North Dakota and Claire McCaskill of Missouri also trail their Republican opponents, according to CNN.
9:11 p.m.: Democrats still bullish on the House
Ben Ray Lujan, the chairman of the Democratic Congressional Campaign Committee, is projecting confidence about Democrats chances at taking control of the House.
"I'm confident Democrats will win the majority in the U.S. House of Representatives," Lujan said at a watch party in Washington, D.C., according to NBC News' Frank Thorpe.
9:05 p.m.: Florida's Amendment 4 passes, restoring voting rights for people with a felony conviction
Florida has successfully passed Amendment 4, effectively restoring voting rights for an estimated 1.5 million people in the state who have previously been convicted of a felony.
The amendment will disproportionately affect black voters in the state, as approximately 1 in 5 of whom can't currently vote under Florida's existing voting rules, according to the New York Times.
9:01 p.m.: Democrat Joe Donnelly is the first Senate incumbent to fall
Indiana Democratic Sen. Joe Donnelly has lost re-election, becoming the first Senate seat Republicans flipped this cycle.
Donnelly was defeated by Republican Mike Braun, who was boosted by strong support for Trump and home state Vice President Mike Pence in the state.
This is a bad sign for Democrats' hopes of winning a Senate majority.
9 p.m.: More polls are closed
Another round of polls in key states have closed, including Wisconsin, Minnesota, Colorado, New Mexico, New York and Arizona.
Arizona plays host to a closely watched Senate race between Democratic Rep. Kyrsten Sinema and GOP Rep. Martha McSally.
And in Wisconsin, GOP Gov. Scott Walker is fighting for his political survival.
Other states have competitive House contests, including New York, Minnesota, Colorado and New Mexico.
8:58 p.m.: Democrat Ayanna Pressley becomes Massachusetts' first black congresswoman
Ayanna Pressley has made history in Massachusetts, winning the state's 7th District to become the first black congresswoman in the state.
Pressley ousted Democratic Rep. Mike Capuano in a primary in September, which was painted as one of the first signs Democrats were clamoring for more women and people of color in their ranks.
8:49 p.m.: Amy McGrath loses
Democrat Amy McGrath, a fighter pilot who was hoping to oust GOP Rep. Andy Barr in Kentucky's 6th District, narrowly lost — a disappointment for Democrats who hoped to defeat a Republican in a seat Trump carried by double-digits in 2016.
8:45 p.m.: Several states extend voting hours
At least six states have reportedly extended their voting hours.
Voters in Alabama, Illinois, Indiana, Georgia, North Carolina and Texas will have more time to cast a ballot, according to ABC News.
Candidates in those states — including Rep. Beto O'Rourke (D-Texas.), who is looking to oust Sen. Ted Cruz (R-Texas), and Democratic Georgia gubernatorial hopeful Stacey Abrams — have urged voters to stay in line to cast their votes.
8:15 p.m.: Florida race is on a razor thin margin
With 87% of the vote in, Republicans have taken a slim lead in both the Senate and gubernatorial election in Florida, according to CNN.
Democratic Sen. Bill Nelson and Democratic gubernatorial nominee Andrew Gillum had been leading most of the night. But as polls closed in the Florida Panhandle, a GOP stronghold, both have lost their leads.
Florida is coming down to the wire, and it will be a while before we have a definitive outcome in the gubernatorial race.
8:10 p.m.: A number of Senate races called for Democrats
None of these were in doubt, but Democratic Sens. Elizabeth Warren of Massachusetts, Chris Murphy of Connecticut, Tom Carper of Delaware and Ben Cardin of Maryland all won re-election.
Democratic incumbents are also leading by comfortable margins in in Ohio and West Virginia, with Democratic Sens. Sherrod Brown and Joe Manchin ahead, respectively. The Florida Senate race is extremely close, with Democratic Sen. Bill Nelson's lead over GOP Gov. Rick Scott shrinking.
8:05 p.m.: Democrats get another pickup
Democrats have picked up another House seat, this one in Florida's 27th District, which went to Donna Shalala.
Hillary Clinton easily carried this district in 2016, but that year the longtime GOP Rep. Ileana Ros-Lehtinen cruised to re-election. When Ros-Lehtinen, the first Cuban-American elected to Congress, announced her retirement, Democrats were almost certain to pick this seat up — and they did.
8 p.m.: Another huge swath of polls is closed
Polls in a major chunk of the country have closed, including in Illinois, Michigan, Maine, New Jersey, Pennsylvania, Texas and Tennessee, where there are important House, Senate and gubernatorial elections.
Democrats are hoping to pick up Senate seats in Tennessee and Texas, and hold seats in Pennsylvania, New Jersey and Michigan.
So far, in terms of control of the Senate, Democrat Joe Donnelly is trailing GOP opponent Mike Braun in Indiana. A loss there could hurt Democrats' hopes of taking control of the chamber.
But in Florida, Democratic Sen. Bill Nelson is leading his opponent, GOP Gov. Rick Scott, by a slim margin with more than half of the vote counted.
7:37 p.m.: Democrats have their first House pickup
Democrats have flipped their first seat of the night, as Jennifer Wexton defeated GOP Rep. Barbara Comstock by a large margin in Virginia's 10th District.
This district epitomizes Republican struggles in the Trump era, as this Northern Virginia district encompasses the educated suburbs of Washington, D.C., where voters are turning away from Trump and Republicans in droves.
7:30 p.m.: More polls close!
Polls are now closed in another round of key states, including Ohio, West Virginia and North Carolina.
Ohio plays host to a competitive gubernatorial race, and it's a contest that could have important implications for redistricting in 2020. Whomever wins the gubernatorial contest in the Buckeye State will oversee the redrawing of state legislative and congressional districts, which currently skew Republican.
West Virginia also has a competitive Senate race, with Democratic Sen. Joe Manchin trying to hold on in a state Trump won by double-digit margins in 2016. Polls show Manchin currently has a lead.
And in North Carolina, some competitive House contests will be key for Republicans to hold if they have any hope of keeping their House majority.
7:24 p.m.: Remember Kim Davis, the Kentucky clerk who refused to give same-sex marriage licenses? Well…
She's on her way to losing re-election. With 17 of 19 precincts reporting, Davis is reportedly down nearly 600 votes.
Davis made national headlines when she refused to grant same-sex couples marriage licenses after the U.S. Supreme Court legalized same-sex marriage in 2015.
Davis is facing off against Democrat Elwood Caudill Jr. for clerk of Rowan County.
7:10 p.m.: Votes trickle in
With so much excitement, but without many votes in, talking heads on television news are making a lot of noise around a very small amount of votes.
It's extremely hard to draw any conclusions when just a few precincts are reporting. We should all wait until at least a quarter of the vote is in, or until the vote is dispersed among key areas of a state, before starting to draw conclusions.
7:05 p.m.: Tim Kaine, Bernie Sanders win re-election
There wasn't much suspense here, but Sens. Tim Kaine of Virginia and Bernie Sanders of Vermont have won re-election.
Kaine faced off against a conservative Republican who has been attacked for the racist comments he made. And Sanders is one of the most popular politicians in the country.
As for results in other states, with a large chunk of the vote in Florida and Georgia coming in the early vote period, it's possible to get a huge swath of the vote in soon after polls have closed.
There's been a lot of speculation about what the partisan breakdown of the early vote means, but we'll actually know when the votes are counted.
Both states have huge implications for control of the House, Senate and key gubernatorial contests.
7 p.m.: Polls are now closed in New Hampshire, Vermont, Virginia, South Carolina, Georgia and Florida
Another huge crop of polls have now closed, including in key states like Florida, Georgia and Virginia.
Look for results in major Senate and gubernatorial contests in Florida and Georgia. Democrats Andrew Gillum and Stacey Abrams are trying to make history in their states — Gillum as Florida's first black governor and Abrams as the first black woman governor in the country.
Florida's Senate race is also important in determining which party controls the chamber, as Democratic Sen. Bill Nelson tries to hang on against a self-funding multimillionaire in current GOP Gov. Rick Scott.
House races in Florida, Georgia and Virginia will also be key to determining which party wins control of the House.
6:54 p.m.: Brian Kemp ran into issues at the polls when he tried to vote
After enduring repeated calls for his resignation over allegations of leading a concerted effort to disenfranchise voters in Georgia, Republican gubernatorial candidate Brian Kemp was reportedly stymied at the polls Tuesday, when his own voter card read "invalid."
According to WSB, Kemp — the outgoing secretary of state in Georgia, who has previously been in charge of overseeing elections in the state — eventually received a new ballot, and was able to successfully cast his vote.
News of the voting snafu came amid reports that thousands of would-be Georgia voters experienced other issues at the polls Tuesday because of faulty equipment and policies intentionally designed to make it more difficult to cast a ballot.
6:14 p.m.: The needle
The New York Times needle, which causes anxiety and panic in Democrats and election forecasters alike, will be up and running again in 2018 both for the House and Senate races.
It'll track the chances either party controls the House and Senate, and by how many seats.
6 p.m.: Polls are now closed in parts of Kentucky and Indiana
The first polls in the country have now closed in most of Indiana and parts of Kentucky.
Indiana plays host to a competitive Senate race, where Democratic Sen. Joe Donnelly is fighting for his political survival in a state Trump carried by double-digits in 2016. Can he hold on? How he fares will be a big indicator of how Democrats' chances look in the Senate.
And in Kentucky, Democrat Amy McGrath is looking to win a Republican-leaning House seat in the Lexington area. How she fares will also be an early indicator of how Democratic candidates will perform in their quest to win control of the House.
5:43 p.m.: Guam elects first female governor
Guam just elected its first female governor.
With 67% of precincts reporting on Tuesday night, KUAM News reported that the U.S. territory had voted to elect Lou Leon Guerrero — the current president of the Bank of Guam — by a margin of 50.7%.
Guerrero, a Democrat, reportedly bested her Republican challenger by approximately 9,000 votes. Guam cannot vote in U.S. presidential elections and has one nonvoting member of the House of Representatives.
5:36 p.m.: More exit poll data
Again, early exit poll data can change, but there are more signs that the evening is looking good for Democrats.
Voters said health care was the most important issue for them this election by a large margin. According to CNN's national election poll, 41% of voters said health care was the most important issue facing the country, followed by immigration at 23%. Democrats have been laser focused on health care in the final stretch of the election.
5:15 p.m.: Beyoncé endorses Beto
In the final hours of the Texas Senate race, pop icon Beyoncé endorsed Democratic Senate nominee Beto O'Rourke in a series of photos on Instagram.
"I'm feeling grateful for everyone before me who fought so hard to give us all the right to have a voice," Beyonce wrote alongside a photo of her in a Beto hat. "We can't voice our frustrations and complain about what's wrong without voting and exercising our power to make it right. We need you. We all need each other, because when we are truly united we are unstoppable. Sending you all love and positivity on this happy voting day! Every vote counts. Every race matters. Everywhere."
5:05 p.m.: Early exit poll results
As we said below, early exit polls can change dramatically as the night goes on. But for now, here's what we know. According to CNN's exit poll, Trump's approval rating among voters is 44%, and that a plurality — 39% — said their vote is to oppose Trump.
Of course, at this point it's early. But if that's the makeup of the electorate, it could be a rough night for Republicans.
4:45 p.m.: Beware the exit polls
We're still a little more than an hour away from the first polls closing in parts of Kentucky and Indiana, but exit poll data will start to trickle out before then.
This is just a reminder that early exit polls can change dramatically, and not to draw too many — if any — conclusions from the data.
4:25 p.m.: Democrats bullish on their chances
House Minority Leader Nancy Pelosi (D-Calif.) was unequivocal about her belief that Democrats will win control of the House for the first time since 2010.
"Yes I am," Pelosi told reporters gathered at a news conference Tuesday, after being asked whether she is "100% confident" that Democrats will win the House.
Democrats need to net 23 seats to flip the lower chamber. Mic's Emily Singer predicts Democrats will surpass that number. You can read the predictions here.