A running list of broken ballots, long lines and incidents of voter suppression across the country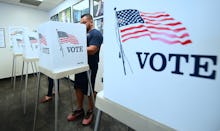 It's Election Day and people across the country are headed to the polls to cast their ballots in what has been billed as a historic election.
However, it isn't just severe weather stopping some voters from casting their ballot. Reports of voter suppression have also been at the center of several races this election cycle, from issues in Georgia with allegedly faulty voter machines to North Dakota upholding a law requiring residents to show ID with a residential address. (Most tribal IDs don't have this information).
Mic started this list with a couple recent examples ahead of Election Day. And as people make it to their polling places, Mic will be adding more reports of voter suppression as developments emerge. Check back here for updates.
Georgia
Brian Kemp isn't just Stacey Abrams' opponent in a race for governor, he's also Georgia's secretary of state, a position that gives him control over the voter database.
Kemp has come under fire for his "exact match" voter rules, meaning if a single letter or even hyphen on a voter's I.D. doesn't match their registration information, they would be barred from voting. On Friday, a federal judge ruled against Kemp, allowing over 3,000 more people to vote.
Most recently, Kemp's office accused Democrats of hacking voter registration files. According to the New York Times, Kemp had little evidence to prove his point.
On Election Day, the state was afflicted by long lines and broken voting machines, according to the Ledger-Enquirer. Some Georgia polling locations reportedly opened to the longest lines voters have ever seen. Elsewhere, three polling places in Gwinnett County have ditched unreliable machines for paper ballots, according to the Atlanta Journal-Constitution. Some machines lost power due to a power cord shortage and lack of battery life, Gwinnett County communications director Joe Sorenson told NBC News.
Illinois
Polling places often enlist the help of poll watchers, who ensure elections are being handled fairly and count early ballots. According to ABC 3, on Monday, County Clerk Kim Buchanan refused to allow poll watchers in Saline County, Illinois, to help oversee early voting ballots.
Jayson Clark, Saline County's attorney general, reportedly received numerous calls about Buchanan barring poll watchers from watching the ballots process through a new machine. "She didn't just kick them out, she built a barricade where they couldn't even see what was going on back there when they were running the ballots through the machine for the second time," Clark said. "That's pretty egregious."
Michigan
In Michigan, broken ballot machines and polling place confusion have some voters turning back. According to USA Today's Detroit Free Press, voting machines in Wayne County froze, due to a malfunction. Some of the votes cast on these machine will be counted after the polls close. In other Detroit suburbs like Redford Township, polling places with one buggy machine have seen many people turn away due to long wait times, the paper reported.
In other cases, some ballot machines were simply misplaced. According to ABC 7 News, Detroit's Martin Luther King Jr. High School misplaced a ballot machine only to find out it was in a locked closet. Workers at the school were reportedly left without a key to unlock it. The high school eventually got the machine up and running by 8:30 a.m. local time — but not before turning away some voters.
New York/New Jersey
Polling places in New York are experiencing broken machines. According to Pix 11, voters in New York City, as well as New Jersey, are reporting faulty equipment in several locations.
Polling places are also experiencing late open times. This is especially inconvenient for those who don't have Election Day off and can only vote early in the morning. Fortunately, some New Yorkers who contacted the NYC Board of Elections via Twitter prompted the board to dispatch technicians to fix the broken machines.
North Dakota
North Dakota has been subject to voter suppression as well. A recent law passed by the Supreme Court requires voters in North Dakota to have a residential address. In North Dakota's Native American community, many buildings lack assigned numbers while streets lack proper signage. The state is home to more than 30,000 Native American people, according to the New York Times.
Ohio
What happens when you planned on voting but get thrown in jail the weekend before Election Day? Recently arrested eligible voters in Ohio are finding out.
Ohio law enforcement arrested and jailed more than 400 potential voters over the weekend, according to BuzzFeed News. In response, those jailed are suing Ohio's secretary of state.
Ohio law states that those attempting to vote via absentee ballot are required to have their application sent in three days prior. Lawyers on the side of those jailed filed an emergency motion to allow the recently arrested Ohioans to submit absentee ballots.
Pennsylvania
Like Georgia and New York, some voters in Philadelphia are experiencing extra-long wait times, presumably due to broken machinery, according to the Philly Voice. The jury is out as to whether widespread faulty machines are to blame for higher wait times or simply more people, though some on Twitter have confirmed voting machine issues.
North Carolina
As dreary rain blanketed much of the northeast on Election Day, election officials in North Carolina reported that humid weather conditions had resulted in some of their voting machines experiencing technical difficulties on Tuesday morning.
In a statement, the North Carolina State Board of Elections and Ethics Enforcement said that some of the tabulators in Wake County were having trouble scanning ballots due to the inclement weather.
"Initial reports from county elections offices indicate that this issue is caused by high humidity levels," the statement said. "When ballots cannot be read by tabulators, they are stored securely in 'emergency bins' and will be tabulated as soon as possible."
The statement went on to note that the State Board would conduct a series of post-election audits to ensure that all votes would be counted, and that in the meantime, election officials are working to ensure that polling places "are kept as cool and dry as possible by using air conditioning and keeping doors closed when possible."
What to do if your vote is being suppressed
If you're having polling place troubles or dealing with faulty machines, you can call the Election Protection Hotline at 1-866-687-8683 and report the issue. The Lawyers' Committee for Civil Rights Under Law will field your call. Additionally, you can text "OUR VOTE" to 97779 to report problems. If your voting machine won't accept your paper ballot, your polling location can still collect votes by hand and count them later, fully ensuring your vote is cast.
Nov. 6, 2018, 5:33 p.m.: This story has been updated.