Hype Daily: Rihanna sent Trump a cease and desist letter and more entertainment news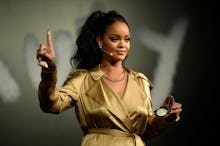 Happy Election Day, you beautiful souls! If you're an eligible American, you better be reading this on your way to your polling place. And if you don't know where your polling place is, you can find out here. Anyways, let's get into the day's entertainment news.
Rihanna sent Trump a cease and desist letter after her song played at his rally
The White House better watch out, because Rihanna is coming for it. The pop star reportedly sent President Donald Trump a cease and desist letter after her song "Don't Stop the Music" was played at a Trump rally in Tennessee on Sunday, Rolling Stone reported on Monday.
The letter, which was sent to Trump's White House counsel, reportedly read, "It has come to our attention that President Trump has utilized [Rihanna's] musical compositions and master recordings, including her hit track 'Don't Stop the Music,' in connection with a number of political events held across the United States. ... As you are or should be aware, Ms. Fenty has not provided her consent to Mr. Trump to use her music. Such use is therefore improper."
RiRi is definitely not a fan of Trump — and she recently endorsed Democrat Andrew Gillum in the Florida governor's race on Instagram, citing issues like "making minimum wage a livable wage, paying teachers what their worth, ensuring criminal justice reform, making health care a right and repealing 'stand your ground.'"
Pete Davidson reportedly cut an Ariana Grande sketch from Saturday's episode of SNL
Apparently, Pete Davidson is trying not to fuel the buzz around his high-profile breakup from former fiancee Ariana Grande. According to Vanity Fair, after Grande was upset about a joke about her in a Saturday Night Live promo, Davidson reportedly went to head honcho Lorne Michaels to get permission to call off a Grande-themed sketch he had written for Saturday night's episode.
It's probably a good thing he did, since Grande dropped her new breakup anthem on Saturday night, just before SNL aired.
Lifetime is making an all-black adaptation of Pride and Prejudice
The movie geniuses at the Lifetime network are working on a new adaption of Jane Austen's Pride and Prejudice, this time with an all-black cast, TVLine reported on Monday. The new adaptation will take place in and around a church in contemporary Georgia.
Jackée Harry will play Mrs. Bennet, the wife of a preacher and author of a book about finding a husband. She also has four daughters and is trying to match up her oldest one, Lizzie (Tiffany Hines) with Will Darcy (Juan Antonio). You know what they say, it's a truth universally acknowledged that a rainy weekend afternoon must be in want of a good Lifetime movie.
An Aretha Franklin concert film shelved years ago is finally coming out
An Aretha Franklin concert film made 46 years ago and never released will finally see the light of day after the late singer's family agreed to release the film, Variety reported on Monday. The film, titled Amazing Grace, shows Franklin singing gospel music in a performance at a South Central L.A. church in January 1972. That performance was also released as an album, but the film made about it was never completed.
Well, that'll change now, according to Variety: Amazing Grace will play at the DOC NYC festival in November, and premieres in Detroit and L.A. are being planned. No word yet on when the film will be in general release, but let's hope it happens soon.
Put this on your radar: Late-night shows are doing election specials
The dudes of late-night television will work extra hard tonight to bring you live election coverage as midterm results come rolling in. Hosts Jimmy Kimmel, Trevor Noah, Stephen Colbert and Seth Meyers will have live election night coverage on their respective networks Tuesday night, Variety reports, so pick your poison and settle in for a fun night.
This has been Hype Daily, Mic's morning entertainment roundup. It's everything you need to catch up on in the entertainment world and what to look forward to today. Want to receive this as a daily email in your inbox? Subscribe here.