Feds warn against Russian interference as voters go to polls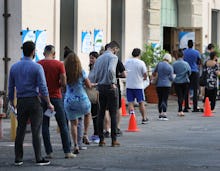 Federal authorities warned voters heading to the ballot box on Tuesday to "be aware" of efforts by Russia and other foreign actors to meddle in the United States midterm elections.
Emphasizing there's been "no indication" so far that America's election infrastructure has been compromised, federal agencies said "foreign actors — and Russia in particular — continue to try to influence public sentiment and voter perceptions through actions intended to sow discord."
"The United States will not tolerate foreign interference in our elections from Russia, China, Iran or other nations," authorities said in a joint statement from the Department of Homeland Security, the Department of Justice, the Office of the Director of National Intelligence and the FBI.
The warning came as Americans headed to the polls Tuesday in a midterm election widely seen as a referendum on President Donald Trump's first two years in office.
Trump has repeatedly questioned the U.S. intelligence community's assessment that Russia interfered on his behalf in the 2016 election. He broke with the intelligence community again this year in casting doubt on Moscow's ongoing meddling threats.
He has also repeatedly attacked the FBI probe into Russia's election interference as a "witch hunt."
He has, however, warned China against meddling in American elections, claiming without evidence in September that Beijing is working to undermine him in the midterms.
"They do not want me or us to win," he said during a meeting of the United Nations Security Council, not mentioning Russia's apparent past and ongoing interference efforts.
Trump and his Republican allies have been criticized for failing to do more to secure future elections.
Trump did sign an executive order in September calling for sanctions against any foreign actors found to be interfering in U.S. elections. But Republicans also shot down legislation proposed by Democrats in July to better fund election security on the grounds that it was unnecessary.
According to the joint statement Tuesday, interference efforts could include "spreading false information about political processes and candidates, lying about their own interference activities [and] disseminating propaganda on social media." Authorities cautioned voters to "mitigate these efforts by remaining informed, reporting suspicious activity and being vigilant consumers of information."