Rebel Wilson says she's sorry for mass blocking her critics on Twitter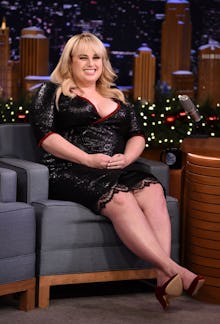 Comedian Rebel Wilson, star of the upcoming meta-romantic comedy Isn't It Romantic, is apologizing for reacting poorly to criticism of her claim that she was the first plus-size woman to play the lead in a rom-com.
"In a couple of well-intentioned moments, hoping to lift my fellow plus-sized women up, I neglected to show the proper respect to those who climbed this mountain before me like Mo'Nique, Queen Latifah, Melissa McCarthy, Ricki Lake and likely many others," Wilson wrote on Twitter on Monday evening. She went on to say that she had blocked her critics "because I was hurting from the criticism, but those are the people I actually need to hear from more, not less. Again, I am deeply sorry."
This mess all began on Wednesday, when Wilson said she was "proud" to be the "first ever" plus-size woman to star in a romantic comedy, during an appearance on Ellen. Wilson had apparently forgotten all about fellow plus-size stars like Queen Latifah — and Twitter users helpfully reminded her that she was forgetting about some notable people.
But at first, Wilson just seemed to be responding to critics by doubling down on her claims. When one fan brought up Queen Latifah and Mo'Nique, both of whom have starred in rom-coms, Wilson said, "It was questionable as to whether: 1. Technically those actresses were plus-size when filming those movies or 2. Technically those films are categorized/billed as a studio rom-com with a sole lead. So there's a slight grey area."
And then people began noticing that Wilson was mass-blocking (mostly black) critics on Twitter. So many people were on the receiving end of her block button that they even started using the hashtag #RebelWilsonBlockedMe, the Cut reported on Monday. But now it seems that Wilson is ready to unblock and make amends — maybe because Mo'Nique herself sent Wilson a message on Monday imploring her not to erase the work of other women.
"Let's please not allow this business to erase our talent with giving grey areas and technicalities," Mo'Nique wrote on Twitter. "Take a moment and know the history. DON'T BE A PART OF ERASING IT. I wish you the best." Looks like that worked.