An artist discovers the true meaning of "aloha" on the island of Kauai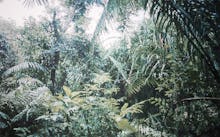 Emerald Rose Whipple learned some of her life's most essential lessons as a child growing up on the Garden Isle.
The works of Emerald Rose Whipple range from youthful indiscretions to saturated, otherworldly landscapes.
The New York-based artist pairs images of her friends (her pointillistic aesthetic harkening back to low-res photos snapped on an early-aughts digital camera) with scenes of their environs: honey-colored sunsets, blooming magnolias, foaming waves — backgrounds that capture the essence of her subjects' spiritual nature. The paintings present city-dwelling gallery viewers with a new, radical relationship to nature: one where we view wildlife as an extension of our identities, rather than something ripe for exploitation and profit. Whipple says she likes to explore the "transmigration of human souls," the idea that who we are goes back into nature. To her, a smile and a flower share the same energy.
This unique approach towards portraiture is inspired by Whipple's childhood spent in Hawaii. As a kid attending a "hippie" charter school on the small island of Kauai, she learned that everything in nature — from rocks to the leaves on a tree — has a spirit. "We would always do these meditations in school focused on bringing out the light within us and then expanding it to the plant and animal kingdom," Whipple said.
As a child, Whipple would go for a surf right before school and scuba-dive over the weekend ("I had a lot of freedom as a kid," she said.) Even while living amongst the many distractions of New York City, Whipple has still tried to hold on to this grounded way of life, thanking the trees near her apartment building each morning: "It's something I try to communicate with my work on a more subconscious level."
Whipple's romantic, Monet-esque paintings are a fabulous example of the inspiration one can glean from the "Garden Isle." A demonstration that the islands of Hawaii are not just tourist destinations, but states of being. "There's a slowness to life and an ability to be present there," Whipple said of Kauai, which has a little over 67,000 residents. "People feel like they need so much to be happy in life, but there you realize everything you need is around you."
Surprisingly, Kauai has managed to largely escape the character-erasing touch of gentrification and tourism. The island serves as an enclave for artistic communities. "One of the reasons I love living on this island is that people see you," said Madeline Guyett, a photographer, maker and artist who has lived on Kauai for decades. Guyett is known for her colorful leis, using flowers picked from across the island. "I find when I go and visit the mainland, I'll look people in the eyes and smile and not always get a smile in return." Whipple shared similar sentiments. "I think a lot of the [Hawaiian] islands have become modernized. But in Kauai, you still feel the energy of Hawaii and the true meaning of aloha."
Perhaps the spirit of aloha (roughly summed up as "joyfully sharing life") is why Whipple paints scenes rooted in delight. They are snapshots of youthful decadence, young adults captured making out, skateboarding, and partying. To-do lists and 9-to-5 jobs don't seem to exist in these worlds. "I imagine my 'Phædo' series as film stills...or a moving image of my life and my reality," Whipple said. "And the landscapes act as a setting for the portraits." What results are transcendental explorations of how naturalistic qualities can be found in humans, and vice-versa. The idea that even in our modern era — where everything feels obtrusively antithetical to nature — we are still connected to the earth.
Whipple's technical process is just as therapeutic and thoughtful as the locations that inspire her. Her oil paintings are of photos she's taken herself (she cites fashion photographers like Ryan McGinley, Juergen Teller and Wolfgang Tillmans as inspirations), but a fair amount of personal interpretations occur as well. "I'll print out the picture and draw out a grid on top of the image and then draw it a little bit bigger, and then scale it to the size of the canvas," Whipple said. "I try to be loose about capturing the colors and just enjoy the experience. Because I don't want to necessarily recreate the photo as much as use it as an outline. My colors always end up darker."
Art has always been a part of Whipple's life. Her family moved from California (where she was born) to Hawaii when she was six years old to make and sell jewelry. As a kid, she once made petroglyphs of sea turtles and sea flowers that her father then sold in the family shop. "Drawing was always a huge part of my life — my mom sort of taught me how to draw, and she bought me a bunch of books on how to use the grid technique." Whipple says she gave up painting when she moved back to California for high school, later going on to attend Parsons School of Design and work in fashion. But even as a working adult, she found herself constantly returning to art as a pastime and refuge from the relentless grind of New York City. "I felt like I wasn't being fulfilled, so I just started doing it and it just kind of took off," Whipple said. "A gallery wanted to show my work and I got some press. It evolved organically."
Whipple has not been back to Hawaii for over three years, since her mother passed away. But she still feels connected to the islands. "In a lot of ways, I feel like my mother embodied a lot of Hawaii," she says. "Because she was really connected to [the] spirits of the islands as well. Bringing all of that into my work makes me feel like she's still here in some ways."
Whipple has not been back to Hawaii for over three years, since her mother passed away. But she still feels connected to the islands. "In a lot of ways, I feel like my mother embodied a lot of Hawaii," she says. "Because she was really connected to [the] spirits of the islands as well. Bringing all of that into my work makes me feel like she's still here in some ways."
Whipple visits Hawaii in her artwork and it has paid off in droves, even if her fellow New Yorkers are slow to understand. "Living in New York is definitely hard," she said. "I'm the token weirdo in my friend group. We'll go to the park and my boyfriend will be like, 'Did you say thank you to the trees and flowers?' I'm trying to bring that awareness into my circle, because it's completely a part of my life — honoring the Earth and showing gratitude for the sunlight and air that we breath."
"Whenever I'm really stressed out and I need to be centered, I go to Kauai in my head."