Dave Chappelle is calling voters to get them to the polls for Maryland's Ben Jealous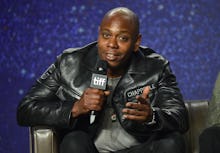 Comedian Dave Chappelle prepared for Tuesday's midterms by personally calling Maryland voters to get them to turn out for gubernatorial candidate Ben Jealous. A video posted to Twitter on Sunday showed Chappelle in Jealous' campaign office, calling a local voter and encouraging him to turn out for the Democratic candidate.
"This is absolutely Dave Chappelle the comedian, and I'm calling you guys with fantastic news," Chappelle says in the video. "You're on the cusp of having a wonderful governor in the state of Maryland ... and I'm in his campaign office right now. Ben and my father were best friends. He's my god brother. I've known him all my life and I'm here supporting him because I think he's gonna do the right thing by Maryland. And I would never endorse anything or anyone I don't believe in."
According to the Hollywood Reporter, Chappelle, who grew up in Silver Spring, Maryland, also went door to door for Jealous. At one point, Chappelle carried groceries for one lucky voter, according to a video Jealous shared on social media on Sunday.
Chappelle isn't the only high-profile endorsement that Jealous has snagged over the course of his campaign — he's also been endorsed by former President Barack Obama.