How a trip to Lanai taught this celebrity caterer to think outside the box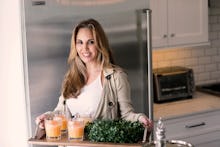 From regional flavor palettes to inspiring rituals, the "Pineapple Island" is chock full of unique culinary expressions.
In the 1920s, the island of Lanai was home to a massive pineapple plantation that provided the world with 75% of its pineapples. The island earned the nickname of "Pineapple Island," which stuck. Today, it has a population of 3,200 residents, with rugged coasts flanked by lava rocks and sparkling waters. The island is so small that its roads don't have stoplights, and though a few luxury resorts dot the island, it remains mostly a hidden gem, a not-so-busy escape. And it's where Andrea Correale, celebrity caterer and founder of Elegant Affairs, a full-service, off-premise catering company, went to find not just peace, but inspiration to take back into her work.
Correale had loved entertaining ever since she was young. Growing up in her big Italian family, every holiday was an occasion to celebrate. "Even though I came from a modest lifestyle, we would always make every Sunday family dinner or every holiday really special," Correale said. On Halloween, for instance, her family changed the light bulbs of the chandelier in their kitchen, and used paper pumpkin plates and black tablecloths to outfit the table. "All those little details warmed me up inside," Correale said. "It gave me so much joy that I wanted to make a career out of making special parties for people." She began experimenting with catering when she was just 16, working in local houses in New York and the Hamptons. The hardest part, then, was getting people to trust her. But she won over her clients with her dedication, and her business grew via word of mouth.
Today, Elegant Affairs has been running for over two decades. The company caters some 600 events a year, from small dinner parties and bar mitzvahs to weddings and galas for 12,000 guests. They've worked with an impressive list of celebrity clientele, including Mariah Carey, Jimmy Fallon, Leonardo DiCaprio, Billy Joel and corporate clients alike. As off-location caterers, their work can be full of surprises: Events happen anywhere, on rooftops or beaches, in backyards or sophisticated venues, and every job they do is infused with Correale's particular brand of beauty and creativity.
When Elegant Affairs catered a party for Cirque du Soleil, they created interactive food stations that were as "quirky and whimsical and fun" as the show itself. Guests could use fishing poles to pick up Japanese-inspired boxes filled with sushi at a fishing pond, or pull orbs of chocolate truffles off the tops of umbrellas, or pluck an appetizer from a wheelbarrow filled with wheatgrass. Correale loves to turn food into a full, immersive experience. First, "putting so much love and care into how well the food is seasoned and prepared," and then "putting just as much effort into creating the most beautiful visual presentations possible."
It's not just imagination and creativity, however: It's a set of mind-bogglingly complex logistics.
Elegant Affairs consists of salespeople, an operations department, a warehouse full of food props and platters, decorative serving pieces, China flatware and glassware and 14 full-time chefs. When clients call to book a party, the salespeople put together a proposal with a thought-out menu, which can feature dishes from around the world: vegan sushi bars or paella bowls, Indian curries or Italian risotto, even inventive stations like a fountain made out of hot rock, where guests sear Kobe beef and shrimp kebabs. Then there's the logistical walkthrough, the tables and chairs and rental list for what the party needs, meetings with vendor spaces and clients. And it's the kind of work that can and often does go wrong. Tents get drenched in sprinklers minutes before a bride is supposed to walk down the aisle, or hurricanes threaten carefully planned preparations. "In this business, no matter how much you plan, ultimately things go wrong, and you have to step in and roll with the punches," Correale said. And her diverse roster of clients means there are always different needs, whether it's catering to complex diet restrictions in a large guest list, or managing the security concerns of high-profile celebrities.
Correale loves her work: understanding the vision her clients want to bring to life, and juggling complex logistics to make it happen. She likes to "[take] in all the pieces, from the culinary to the atmosphere and décor and service and nuances. I like to put my hands in all of it, from food to presentation." To find new ideas and trends to bring to her company, Correale is constantly reading to keep up: scouting social media and Pinterest, watching the Food Network, reading food magazines and keeping up with changes within the restaurant scene. And every year, she travels, aiming for four to six destinations a year. These trips are more than just vacations: They're an opportunity for her to learn from other worlds and cultures. "Whenever I go anywhere, I'm always sampling different foods and seeing what the local culture and spices are like, to bring back new ideas to fuel my business and give it flavors from other places," Correale said.
She found exactly the kind of inspiration she had hoped for in Hawaii.
"I remember being very inspired by the destination itself," she said. "I didn't realize before I went to Hawaii — everything in Hawaii is so much fresher and cleaner and natural. The rainbows you see are amazing, and the whales and the tortoises and the dolphins, all [that] sea life and it's right there!" For Correale, Lanai especially felt more natural, a place where she could experience the island the way locals would. The landscape was tropical, with dense lava rocks, an array of lush flowers and foliage and blue water. Even the smell in the air felt clean and fresh and wonderful.
Then, of course, there was the food. Correale had been stunned by the quality of the ingredients, as she felt they were as fresh as you could get: "You're not getting things that are heavily sauced. You get some really clean rice, very fresh vegetables, very fresh fish. The quality of food just killing it."
In a small, unpretentious roadside hut on one island, Correale discovered a poke market — "this is before [poke] was as popular as it is now. I remember it was the most amazing poke that I'd ever seen, the quality of the fish, how they seasoned it, how they presented it." She ate the poke bowl right outside. "I thought it was just so interesting, seeing that and experiencing it. I took [that experience] back to my own business." Elegant Affairs now features a fresh poke bowl bar as part of their food stations, using Pacific Rim-inspired marinates. They adapted the Hawaiian influence on the seasonings using Pan-Asian marinades with ginger and garlic, adding Chinese five spice and different types of sea salt, as well as coriander and cumin for Polynesian-inspired flair.
On the island, Correale also got to see a traditional Hawaiian luau: local chefs dug a hole in the ground, added wood, hot coals, tea leaves and bamboo leaves, seasoned an entire pig, covered it in wet tarp and smoked it for "hours and hours and hours." Inspired by the pig roast, Elegant Affairs is now starting to teach its clients in the Hamptons how to recreate the experience.
After two weeks in Hawaii, Correale felt relaxed and centered. "I felt like a person again," she said. For Correale, who usually began her busy days early, running around the city ("I could be at a vineyard one day, a Manhattan rooftop another day, on the beach planning a wedding or meeting with event and tent vendors the next") Hawaii offered both inspiration and respite.