Rihanna endorses Democrat Stacey Abrams for governor of Georgia in passionate Instagram post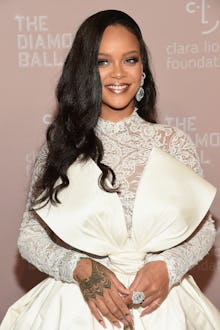 Pop goddess and makeup mogul Rihanna has endorsed another candidate in Tuesday's midterm elections. Rihanna is lending her support to Democrat Stacey Abrams, who's battling it out in a heated race for governor of Georgia. If elected, Abrams would be the first black woman to serve as a state's governor.
"GEORGIA: I'm sure you already know, but in case you're still wondering... it's all about @StaceyAbrams for Governor!" Rihanna wrote in an Instagram post Tuesday afternoon. "Stacey is an inspiration to women across the world!!! She has the vision and experience to lead Georgia ... We need everyone in Georgia to Vote TODAY! Take people with you - it's going to take all of us to do the work! Let's get it done! EVERY. VOTE. MATTERS!"
Rihanna also touted some of Abrams' campaign platforms, including eliminating cash bail and expanding health care access. She joins other celebs like Oprah Winfrey and Will Ferrell, both of whom have campaigned for Abrams.
As Teen Vogue reported on Tuesday, a commenter on Rihanna's Instagram endorsement of Abrams asked the singer if she was "even a US citizen," to which the singer apparently responded, "Nah I'm an immigrant tryna get yo country together. Did u vote?"
And this isn't even Rihanna's first endorsement this election season. She also endorsed Democrat Andrew Gillum for governor of Florida in a separate Instagram post Sunday, in which she wrote, in part, "You have the opportunity to make history this election. The US has only had four black Governors in its entire history, and we can help make #AndrewGillum the next one and Florida's first!"
And on Monday, news broke that Rihanna's camp had sent the White House a cease and desist letter after President Donald Trump used her song at a rally. With all her political advocacy of late, it's amazing that Rihanna has any time left to work on her new album, maintain her acting career and have a makeup line and lingerie collection. Who are we kidding, of course she can do it — she's Rihanna.
Nov. 6, 2018, 4:18 p.m.: This story has been updated