Mic Daily: Your Election Day recap before the results roll in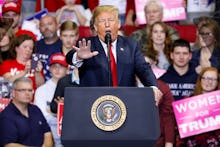 Good evening, and welcome to a special edition of Mic Daily. We're just a few hours away from getting the initial midterm election results — are you ready? If you were busy at work all day and missed the latest election news, we've got you covered.
And when you're done catching up, be sure to check out our live blog. We'll be updating it all night as the results roll in.
All the broken ballots, long lines and incidents of voter suppression across the country
Reports of voter suppression efforts have been plaguing this election cycle, so it's no surprise that on Election Day, a few more accounts popped up. Read more.
Severe weather on Election Day is testing voters in several states with key races
Faulty equipment wasn't the only thing hindering people from voting. Extreme weather in some parts of the country made things even harder. Read more.
Rihanna endorses Democrat Stacey Abrams for governor of Georgia
In an election season that saw celebrities get even more political than usual, a few got their last-minute endorsements in on Election Day itself. One such person was Rihanna, who used Instagram to root for Stacey Abrams, the Democratic candidate in Georgia hoping to be the state's first black woman governor. Read more.
Feds warn against Russian interference as voters go to polls
Early Tuesday morning, federal officials emphasized there had been "no indication" of election hacking, but warned that "foreign actors — and Russia in particular — continue to try to influence public sentiment and voter perceptions through actions intended to sow discord." Read more.
"Me voting in 2016 vs. 2018" meme reminds us who we've become since Trump was elected
If you're feeling a bit worn down by the last two years, the newest Twitter meme might help you feel a bit of camaraderie with your fellow citizens. Read more.
Mic Daily is Mic's newsletter that cuts through the noise and lands in your inbox every weekday. We carefully curate each edition to send you a cross section of our most vital stories of the day.