Beyoncé just endorsed Beto O'Rourke at the last minute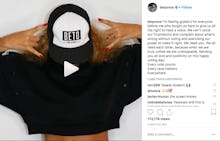 Megastar and Texas native Beyoncé announced a last-minute endorsement of Democrat Beto O'Rourke on Tuesday with a series of Instagram posts. O'Rourke is in the middle of a tight race for a U.S. Senate seat against Republican incumbent Ted Cruz, and, as midterm results roll in Tuesday night, the Texas race will likely draw national attention.
Bey didn't actually mention O'Rourke by name in her caption, but she posed wearing a "Beto for Senate" hat. Her caption, which mostly endorsed the general practice of voting, read, "I'm feeling grateful for everyone before me who fought so hard to give us all the right to have a voice."
"We can't voice our frustrations and complain about what's wrong without voting and exercising our power to make it right. We need you. We all need each other, because when we are truly united we are unstoppable. Sending you all love and positivity on this happy voting day! Every vote counts. Every race matters. Everywhere."
Beyoncé's post ends speculation about whether she would join the many other celebs who've declared their support for O'Rourke, including fellow Texan Willie Nelson, Travis Scott and LeBron James. This isn't Bey's first political endorsement: She stumped for former Secretary of State Hillary Clinton in 2016, but this time around, it took her until the actual day of the election to come out for O'Rourke.
O'Rourke, for his part, took time off from his final bit of campaigning to send Beyoncé a thank you reply on Twitter.