5 crucial social justice initiatives that passed around the country in 2018 midterm elections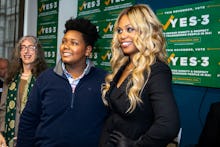 As the 2018 midterm elections wind down, many are celebrating the significant historic wins for women of color candidates in statewide and local races. Besides the changing face of American politics, the approval of several key amendments brought to the ballots by grassroots organizers is also a sign of where the country is going in terms of criminal and social justice reform.
From voting rights to police oversight, here is a look at five crucial social justice initiatives that passed around the country:
Louisiana amendment reverses Jim Crow-era split-jury system
The majority of Louisiana voters chose yes on a measure known as Amendment 2, which states that a unanimous jury is required to decide felony convictions. This reverses a law dating back to Louisiana's 1898 Constitution that allowed juries to convict felons if 10 out of 12 jurors agreed on a verdict, NPR reported. The previous policy contributed to the disproportionate mass incarceration of black Americans in the state of Louisiana, the outlet also wrote. The Unanimous Jury Coalition canvassed to spread the word about the measure ahead of Election Day.
Florida restores felons' right to vote
Qualifying formerly incarcerated felons are now allowed to vote in the state of Florida, thanks to the majority of voters checking yes to restoring their rights on Amendment 4. Additionally, 20% of Florida's black population will now be allowed to vote. Sexual offenders and those convicted of murder are not eligible under this measure. Florida Rights Restoration Coalition fought to bring the measure to the ballots.
Massachusetts supports transgender rights to use public spaces
Voters in Massachusetts approved a ballot measure to uphold a bill passed in 2016 that protects transgender person's rights to freely use public accommodations including restrooms, locker rooms, hotels and restaurants. Massachusetts is the first state to vote in support of protecting transgender rights, according to Freedom for All Massachusetts' Yes on 3 coalition that campaigned to approve the measure.
Maryland says yes to same-day voter registration
Qualified Marylanders will now be able to register and cast their votes on Election Day thanks to the majority of voters supporting ballot measure two. The new measure will take effect during the 2020 elections, according to the Herald-Mail. The bill was supported by the American Civil Liberties Union People Power initiative to expand access to the ballot in Maryland.
Nashville approves measure for police oversight panel
Nashville voted yes to a new citizen-led panel, which will oversee the city's police department, following decades of police brutality and racial bias against black citizens. Community Oversight Now, a coalition of local civil rights groups, led the charge to implement the panel, according to the Tennesseean.