Today in Trump's America: Democrats win the House, Republicans expand their Senate majority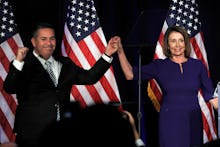 It was a split decision in Tuesday's midterms, as Democrats won the House majority for the first time since 2010 and picked up a number of key governor mansions but lost seats in the Senate.
Democrats have so far gained at least 26 House seats, more than the 23 needed for control, and flipped governor mansions in Michigan, Wisconsin, Illinois, New Mexico, Nevada, Kansas and Maine.
But in the Senate, Democrats running in states President Donald Trump carried in 2016 could not hold on, including Democratic Sens. Bill Nelson of Florida, Heidi Heitkamp of North Dakota and Joe Donnelly of Indiana.
Two highly touted Democratic nominees — Phil Bredesen in Tennessee and Beto O'Rourke in Texas — could not overcome their state's Republican lean, and both lost.
In a bright spot for Democrats, they ousted GOP Sen. Dean Heller in Nevada, blunting worse Senate losses.
Two other Democratic rising stars also came up short: Andrew Gillum in Florida and Stacey Abrams in Georgia — who trails Republican Brian Kemp, but the race hasn't been called and Abrams has yet to concede.
Still, with Democrats seizing control of the House, the party now has the power to investigate the Trump administration and other GOP scandals over the past two years. Those investigations could bring a steady drumbeat of revelations that could dog Trump as he runs for re-election.
The split Congress will also thwart Trump's agenda in the House, including GOP attempts to repeal the Affordable Care Act.
The other takeaway of the night is Trump's immigration rhetoric may be here to stay.
While the anti-immigrant focus failed in suburban areas that were key to the House, it worked to gin up turnout in rural GOP strongholds in key swing states like Florida — meaning we could be in for a lot more of that kind of message.
Here's what's happening in Trump's America:
• Trump will hold a post-election news conference at 11:30 a.m.
About last night: Lots of surprises
Tuesday night was filled with surprises on both sides of the aisle.
Gillum losing Florida's governor's race, after leading in most polls, was a true shocker.
There were also a handful of House seats that were barely on the radar that Democrats flipped, including Oklahoma's 5th District — a seat Trump carried by 14 points in 2016 and that no one was talking about going into Tuesday night. In that seat, Rep.-elect Kendra Horn beat GOP Rep. Steve Russell by a slim 50.7% to 49.3%, according to the Associated Press.
Democratic Rep.-elect Max Rose's win in New York's Staten Island-based 11th District was also a surprise. He ousted GOP Rep. Dan Donovan in a district Trump carried by 10 points in 2016.
In Georgia, "Mother of the Movement" Lucy McBath leads GOP Rep. Karen Handel in Georgia's 6th District with 100% of precincts reporting, meaning she may have pulled off what Jon Ossoff couldn't last year.
And in South Carolina's 1st District — which Trump carried by 13 points in 2016 — Democrat Joe Cunningham defeated Republican Katie Arrington. In June, Arrington defeated GOP Rep. Mark Sanford in a primary by embracing Trump and saying Sanford did not sufficiently back the president.
Today in Trump's America: Leadership races begin
With Democrats winning control of the House, the party will immediately turn to speakership elections.
Current House Minority Leader Nancy Pelosi is running. But given a number of House candidates said on the campaign trail they would not vote for her for speaker, it's unclear whether she has the votes.
Of course, someone would need to run against her in order for Pelosi to lose. Look out for whether any House Democrats announce bids.
Democrats are also likely to start laying out their agenda after taking the House, which is likely to include oversight of the Trump administration and passing health care legislation.
As for Republicans, they will need to pick a new leader, as well, given current Speaker Paul Ryan is retiring from Congress when his term expires in January.
Ohio GOP Rep. Jim Jordan is waging a bid for House minority leader, as is current House Majority Leader Kevin McCarthy of California.
My predictions...
As loyal readers know, I laid bare my predictions on Tuesday.
For my Senate picks, I give myself a D. I was nervous about my prediction given how close the polling was, and my fears ended up being founded.
But I was pretty spot-on with the House predictions.
Democrats lost Minnesota's 8th District, as I predicted, but they also appeared to narrowly lose Minnesota's 1st District — a seat I thought Democrats would hold.
I also thought Democrats would win New Jersey's 3rd District, ousting GOP Rep. Tom MacArthur, one of the architects of Republicans' failed Affordable Care Act repeal. Instead, Democrats picked up New Jersey's 7th District, another suburban New Jersey seat where Republicans soured on Trump.
California is still counting votes, but Democrats are leading in some key races in that state, including Democrat Harley Rouda leading "Putin's favorite congressman" in Rep. Dana Rohrabacher.
All of my other House predictions were correct.
I want to give a shoutout to Taylor Mucaria of Raleigh, North Carolina, who came pretty close in their predictions.
Taylor predicted Democrats would net 42 House seats, and O'Rourke would lose. Taylor also incorrectly said Amy McGrath would win Kentucky's 6th District (McGrath lost), but that race was very close.