Trump declares "big victory" in midterms — despite the GOP losing the House to Democrats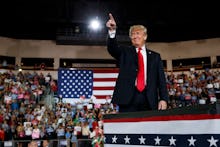 President Donald Trump is taking a victory lap following Tuesday's high-stakes elections, counting the midterms as a win despite Republicans losing control of the United States House of Representatives.
"Tremendous success tonight," Trump tweeted late Tuesday, as results continued to come in. "Thank you to all!"
In another tweet early Wednesday morning, Trump added he'd received "so many Congratulations from so many on our Big Victory last night."
"Now we can all get back to work and get things done," he said.
Tuesday's midterms were far from a "Big Victory" for Trump and the Republicans, though.
The GOP did keep its grip on the Senate, as expected. But Republicans ceded control of the House to the Democrats, which will likely create significant headaches for Trump for the remainder of his first term.
With split control of Capitol Hill, Trump and the Republicans will face more difficulty in getting their agenda through. But perhaps more problematic for Trump will be the numerous investigations Democrats will now be able to launch on Capitol Hill with their new subpoena power.
Democrats are expected to look into a host of Trump administration controversies, from Russia to hush payments to the president's long-sought tax returns.
Committees once run by Trump loyalists like Rep. Devin Nunes (R-Calif.), who closed the House Intelligence Committee's probe into Trump's ties to the Kremlin, are expected to soon be helmed by some of his harshest critics, like Rep. Adam Schiff (D-Calif.), who has claimed Democrats on the House Intelligence panel had uncovered "significant evidence" of collusion between the Trump campaign and Russia before the inquiry was shut down.
That'll be troublesome for Trump, who has so far been largely protected by Republicans on Capitol Hill.
Still, Tuesday did bring some wins for Trump.
Republicans not only held onto the Senate, but actually grew their majority there. They also won some high-profile races against candidates who had captured the enthusiasm of Democrats nationally.
Rep. Beto O'Rourke (R-Texas) performed well in his bid to unseat Sen. Ted Cruz (R-Texas), but the Republican held him off to win re-election. Trump-backed Ron DeSantis, who faced charges of racism during his gubernatorial campaign, squeezed out a victory against progressive Andrew Gillum in the swing state of Florida. And Brian Kemp, the Georgia secretary of state who has been accused of abuses of power in overseeing the election in which he was running, is beating Democrat Stacey Abrams in the state's closely watched governor's race.
Trump threw significant weight behind all three of those Republicans, and he made sure Wednesday to emphasize his role in theirs and other GOP victories.
"Those that worked with me in this Incredible Midterm Election, embracing certain policies and principles, did very well," Trump tweeted. "Those that did not, say goodbye!"
The midterms had been widely seen as a referendum on the first two years of Trump's presidency. In that regard, the historically unpopular president, who had gone on a blitz of campaign rallies and peculiar Twitter endorsements in the weeks leading up to the elections, notched enough Republican wins to make Democrats uneasy.
Democrats, energized by Trump's tumultuous and controversial first two years, hoped a blue wave would wash over Capitol Hill Tuesday. Their victory in the House, however, was somewhat smaller than expected.
But a win is a win, and Democrats will now have an opportunity to check Trump's power — something Rep. Nancy Pelosi (D-Calif.), who is expected to rise again to House speaker, promised Tuesday to do.
"Tomorrow will be a new day in America," Pelosi said at a victory party for Democrats Tuesday evening.