Weed wins: Michigan legalizes recreational marijuana, while Utah and Missouri approve medical use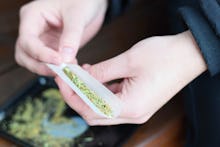 The results from Tuesday's midterm elections are in, and cannabis won in a lot of ways.
Michigan will become the country's 10th state — and first in the Midwest — to legalize recreational marijuana. The state's Proposal 1, the Marijuana Legalization Initiative, will permit adults over age 21 to possess, grow and use a small amount of pot legally, which will enact a tax on pot. The measure won with 55.9% voting "yes" on the ballot with 93% of precincts reporting, according to the New York Times.
In both Utah and Missouri, voters elected to legalize the use of medical marijuana. In North Dakota, however, the majority of voters rejected a measure to legalize the substance.
Michigan residents will be able to get their green soon; ballot initiatives take effect 10 days after voting results are certified, which means marijuana will be legal in the state sometime this December. The part of the law that allows licensed business to grow and sell pot must take effect within a year of the law being passed.
"The Proposal 1 campaign boiled down into one of fact versus fear," said Josh Hovey, spokesman for the Coalition to Regulate Marijuana Like Alcohol, the Detroit Free Press reported. "The data from the nine other states to have legalized marijuana made clear that regulation and taxation are a better solution. Legalization of marijuana will end the unnecessary waste of law enforcement resources used to enforce the failed policy of prohibition while generating hundreds of millions of dollars each year for Michigan's most important needs."
Michigan will join Alaska, Colorado, Maine, California, Oregon, Washington, Nevada, Massachusetts, Vermont and Washington, D.C. in legalizing the recreational use of weed.
Pot is the most widely used not completely legal drug in the U.S. While the medicinal benefits of the drug are the subject of much research and debate, the Food and Drug Administration has approved THC in certain forms to treat conditions like nausea in cancer patients undergoing chemotherapy and to rev up the appetite in those with AIDS experiencing wasting syndrome, a description for when a patient loses at least 10% of their body weight, according to the National Institute on Drug Abuse. CBD, the newly hyped marijuana derivative that doesn't cause a high, has been approved by the FDA in Epidiolex, a medication that treats severe epilepsy in children.