Georgia governor's contest among several key midterm races that still have yet to be called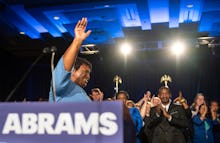 Tuesday's midterm elections resulted in a number of victories for both Democrats and Republicans — but some key races are still being decided.
While a number of high-profile gubernatorial races were decided last night, including Republican Ron DeSantis' win over Andrew Gillum in Florida, Georgia voters will have to wait for the results of their gubernatorial race between Stacey Abrams and Georgia Secretary of State Brian Kemp — and potentially even head back to the polls for a runoff election.
How much of a majority Democrats will have in the House is also still up in the air, with key races yet to be decided in New Jersey, Texas, Georgia, California and Utah.
Here are the races we're still watching in the midterm election.
Georgia governor: Kemp is currently slightly ahead of Abrams, earning 50.4% of the vote to Abrams' 48.6% as of 7:00 a.m. Wednesday with 99% of precincts reporting, according to NBC News. There are a number of absentee and provisional ballots still left to be counted, however, and Abrams refused to concede the race Tuesday night.
Should neither candidate earn a majority of the vote once the final tally is in, the race will be decided in a separate runoff election, which would take place Dec. 4. The close race comes amid widespread reports of voter suppression in Georgia, as Kemp pushed restrictive policies — several of which were struck down in court — and voters reported issues with voting machines on Election Day.
"Georgia still has a decision to make," Abrams said in a speech early Wednesday morning. "If I wasn't your first choice, or if you didn't vote, you're going to have a chance to do a do-over."
New Jersey's 3rd District: Democrat Andy Kim and incumbent Rep. Tom MacArthur are still battling it out in New Jersey's 3rd District, where MacArthur currently leads by just over 2,000 votes with 99% of precincts reporting. The Kim campaign said in a statement Tuesday night there are still "tens of thousands" of votes left to be counted, many of which are from Burlington County, which has so far heavily favored Kim.
California's 48th District: Incumbent Rep. Dana Rohrabacher is currently slightly behind challenger Harley Rouda, who is leading by just over 2,500 votes. All precincts have been counted, but the race is still waiting on provisional and mail-in ballots. Rohrabacher, a Trump ally who was once dubbed "Putin's favorite congressman," was first elected to Congress in 1988 and previously won in 2016 by 16 percentage points.
California's 50th District: In San Diego, incumbent Rep. Duncan Hunter currently has an 8% lead over challenger Ammar Campa-Najjar with 69% of precincts reporting. Hunter's lead comes after the congressman was previously indicted in August for allegedly misusing $250,000 in campaign funds. His campaign against Campa-Najjar — who is Christian — has been largely marked by racist anti-Muslim attacks, as Hunter falsely accused Campa-Najjar of being a Muslim terrorist seeking to "infiltrate" Congress.
Texas' 23rd District: Incumbent Rep. Will Hurd is currently just 0.3% ahead of Democratic challenger Gina Ortiz Jones with 100% of precincts reporting. The Associated Press previously called the race for Hurd but later retracted its call, saying votes came in higher than anticipated for Ortiz Jones. Though Hurd officially declared victory Wednesday morning, the race is still considered to be too close to call, and the current 689 vote difference between the candidates makes the race eligible for a recount.
If elected, Ortiz Jones would become the first Filipina-American congresswoman and the first lesbian and Iraq War veteran to represent Texas in the House.
Georgia's 6th District: Democrat Lucy McBath is currently leading by 0.7% over incumbent Rep. Karen Handel, who previously won the House seat in a 2017 special election. McBath, a former flight attendant, entered politics and became an outspoken advocate against gun violence after her son Jordan Davis was shot and killed at a Florida gas station in 2012. The Democratic challenger said on Twitter Wednesday morning there would be a recount in the race.
Utah's 4th District: Incumbent Rep. Mia Love, the only Republican black woman in Congress, is currently 2.6% behind Democratic challenger Ben McAdams with 68% of precincts reporting. Love has been a congresswoman who hasn't been afraid to oppose Trump, and her potential loss comes after the lawmaker previously admitted to improperly raising campaign funds during the primary election.