Facebook says it blocked 100 malicious accounts just in time for the midterm elections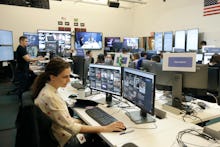 Facebook says it blocked over 100 accounts with ties to Russia just in time for the midterm elections on Tuesday. This news follows reports from Monday where the company said it blocked 115 accounts suspected of election tampering.
According to CNBC, Facebook said in a statement that it removed pages from both its site and Instagram. The social network didn't release details surrounding the pages it removed from its site, but reported it had concerns that all of the sites may have had ties to Russia's Internet Research Agency, CNN noted.
"We had already blocked most of these accounts yesterday, and have now blocked the rest," Facebook's head of cybersecurity policy Nathaniel Gleicher said in the company's statement. "This is a timely reminder that these bad actors won't give up — and why it's so important we work with the U.S. government and other technology companies to stay ahead."
The fake news problem has been a hydra for Facebook, with new malicious accounts appearing right as old ones are eliminated. At one point, the social media network denied it had an impact on the 2016 election. Now the company has taken steps to address the problem by enlisting the help of employees to spot malicious groups or fake news on its platform.
While Facebook has blocked numerous accounts in time for the midterm elections, there were other instances of misinformation that spread on Election Day. According to BuzzFeed News, a video on Instagram alerted many people to supposed voter fraud happening in Franklin County, New York. The truth was that a machine at the polling place was simply experiencing a paper jam. Facebook took the video off of Instagram after BuzzFeed alerted the site of this error.
Facebook isn't the only social network susceptible to misinformation. On Twitter, Georgia gubernatorial candidate Brian Kemp shared a Breitbart article with his followers in a tweet that claimed his opponent, Stacey Abrams, was too extreme for Georgia. Kemp supporters used the image to suggest that Black Panther members were intimidating voters at polling places. Wired noted, however, that the image is being taken out of context. The four men in the photo belong to a Facebook group called the New Black Panther Party. The photo of them standing in front of a Stacey Abrams sign was taken at a small gathering on a street corner the Saturday before Election Day.
Facebook's removal of 100 suspected IRA-linked pages are both a step in the right direction for the company and just the start of an ongoing battle against fake, attention-grabbing stories on its site. Future elections, both in the U.S. and around the world, will continue to test Facebook and other social media networks' abilities to curb the spread of misinformation.