Mic Daily: California residents criticize officials' lack of preparedness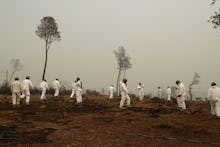 Good evening, readers, and happy Wednesday.
Before we jump into the top stories from Mic today, here's a special announcement: If you'll be in New York City on Tuesday, you're invited to join us at Mic's headquarters in One World Trade Center for a special event commemorating Transgender Day of Remembrance. You can read all the details and RSVP over on Facebook. We hope to see you there.
This Texas college professor called police on a black student for putting her feet up in class
Here's yet another instance of a white person calling the police to solve a non-existent problem. Read more.
Fox News to file a legal brief supporting CNN's lawsuit against the White House
Though Fox News has been known to parrot the Trump administration's talking points, the conservative news network showed support for CNN reporter Jim Acosta, whose press access President Donald Trump revoked Nov. 7. Read more.
As death toll from the California Camp Fire mounts, residents say officials could have done more
California is still grappling with the deadliest fire in the state's history — and some wonder whether officials did enough to help residents. Read more.
Meet the Georgia voter who traveled over 600 miles on Election Day to vote
Sam Shields, a Georgia resident attending school in Virginia, requested multiple absentee ballots for the midterm elections. They never arrived, so he took matters into his own hands. Read more.
The thirstiest ways cities begged for the Amazon headquarters deal
In case you hadn't heard, Amazon CEO Jeff Bezos announced the locations of his company's newest headquarters — bringing to a merciful end all the congratulatory, cringy self-promotion from cities hoping to get a slice of that Amazon pie. (We're still waiting for you to change your name to "Amazon Cuomo," as promised, governor.) Read more.
Mic Daily is Mic's newsletter that cuts through the noise and lands in your inbox every weekday. We carefully curate each edition to send you a cross section of our most vital stories of the day.