Mic Daily: Trump skips out on Veterans Day visit to Arlington National Cemetery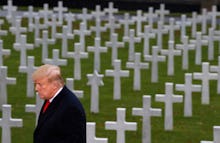 Hello readers, and happy Monday to you all. Here are the top five stories out of Mic today.
Firefighters condemn Trump's "reckless and insulting" comments about California wildfires
Over the weekend, President Donald Trump tweeted a number of angry responses to the wildfires blazing California, arguing there was "no reason" for the fires except for bad forest management.
The president of the International Association of Firefighters saw things differently. Read more.
Steve McQueen talks 'Widows' and diverse casting in film: "Who's saying it's difficult?"
Oscar winner Steve McQueen, director of 12 Years a Slave, is heading in a decidedly more genre-driven direction with his upcoming film Widows. In an interview with Mic, the 49-year-old discussed his philosophies on representation — and why assembling a diverse cast for Widows wasn't hard at all. Read more.
Trump skips Veterans Day tradition
Trump's public appearances ceased at 10:03 a.m. Eastern on Monday, meaning he didn't show up at Arlington National Cemetery in observation of Veterans Day — an unofficial but quite established presidential tradition. Read more.
Plus-size, trans women speak out against Victoria's Secret telling them they aren't good enough
Chief marketing officer for Victoria's Secret's parent company has come under fire for comments he made in a recent interview with Vogue, in which he casted off the importance of transgender and plus-size representation on the runway.
"Shouldn't you have transsexuals in the show? No. No, I don't think we should," Ed Razek said. "We attempted to do a television special for plus-sizes [in 2000]. No one had any interest in it, still don't."
Mic's Evan Ross Katz collected responses from many trans, plus-size and gender nonconforming people who had something to say. Read more.
Mississippi senator faces backlash over "public hanging" comment
During a recent political rally, Sen. Cindy Hyde-Smith (R-Miss.) said she would happily attend a "public hanging." She's currently in a runoff election against Democratic Rep. Mike Espy, who is black. Read more.
Mic Daily is Mic's newsletter that cuts through the noise and lands in your inbox every weekday. We carefully curate each edition to send you a cross section of our most vital stories of the day.