The most important item on Oprah's Favorite Things list is a 3-way lasagna pan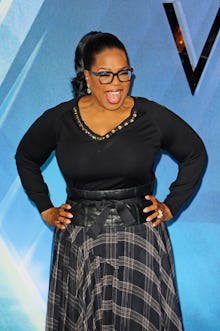 It's here! Oprah has unleashed her list of Favorite Things, and out of all 107 items, one thing truly stands out: a lasagna pan.
In Oprah's kitchen-related gifts section, you'll find the Professional Lasagna Trio Pan, which retails for $30. "When you have a family of varying appetites, these will come in handy," Oprah's description reads.
The pan's standout feature is that it allows users to make three different types of lasagna simultaneously.
Do you think this gift falls into the category of useless kitchen gadgets? Is it a one-hit wonder that will eventually gather dust at the back of the pantry?
Oprah would never. As the lifestyle guru pointed out, this pan is versatility at its finest. "All three pan sections are lasagna-noodle size — great for that gang of vegetarian, gluten-free and carnivorous eaters," she wrote.
Growing up as the only non-meat eater of four kids, my mom would keep a corner of the baked ziti she cooked vegetarian. Instead of sausage, she'd put mushrooms in my solitary corner. The swap was incredibly thoughtful, but it also lent itself to a little game of Russian Roulette: If I carved too far toward the middle of the baking dish, I would enter sausage territory and sometimes I'd have to pick out little sausage pieces from the edges of my slice of ziti. There are certainly worse things in life, but it wasn't ideal.
The 500-plus Amazon reviews of the product, which currently has 4.3 out of 5 stars, emphasize the pan's utility. Commenter Susan Briggs revealed that she made a three-layer cake with this bad boy — she calls the cake, cleverly, a "cake tower." There's nothing but good coming from this pan!," writes user srenee. "Yummy crunchy edges on every piece!"
Many Amazon reviewers raved that, because of its multiple edges, the dish being cooked in the pan will rarely have a gooey center. The Glassy Garden Gal made one brilliant suggestion. "Never buy boxed taco shells again!," they advise, explaining how this pan can turn soft tortilla rounds into hard shell tacos. Marvelous!
Best of all, when you cook with the lasagna pan, you can envision yourself cooking like Oprah might.
Oprah's 2018 list of Favorite Things is thoughtfully curated — unsurprisingly — and a delight to page through, but nothing stands out as much as the innovative Chicago Metallic Professional Lasagna Trio Pan. When has Oprah ever steered you wrong?