Celebrities went all-in for the midterm elections — but did their candidates win?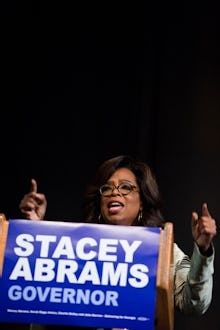 Early numbers seem to indicate turnout for Tuesday's midterm elections hit historic highs — but it's hard to say whether those numbers were helped by the Hollywood A-listers who lent their celebrity to candidates in races across the country.
Some celebs, like Dave Chappelle, Will Ferrell and Oprah Winfrey, actually pounded the pavement for their candidates, knocking on doors and talking to voters. Others, like Beyoncé and Taylor Swift, posted endorsements on social media, reaching their millions of followers. But how many of those celebrity-endorsed candidates actually won their races?
One of the highest-profile races was the battle for the Texas Senate seat that pitted Republican incumbent Sen. Ted Cruz against Democratic Rep. Beto O'Rourke. Texas natives in particular showed up for O'Rourke, including Willie Nelson, who sang at a rally; Connie Britton, who donated to O'Rourke's campaign; and Travis Scott, who campaigned with O'Rourke.
Meanwhile, LeBron James was spotted wearing a O'Rourke hat in October; Beyoncé, who was born in Houston, Instagrammed herself donning her own O'Rourke gear Tuesday as a sort of last-minute endorsement. But did all the celebrity give O'Rourke a boost? He didn't win — Cruz narrowly defeated O'Rourke to hold onto his Senate seat — but the race was much closer than anticipated for a historically red state.
Over in Georgia, Democrat Stacey Abrams also raked in the celeb endorsements. Ferrell went door to door for Abrams, who also enjoyed support from the likes of Tiffany Haddish, Ludacris and Common, as Variety reported. And in what might be the pinnacle of celeb endorsements, Oprah herself flew down to Georgia to appear alongside Abrams at events and go door-knocking, much to voters' delight.
Abrams drew so many celeb endorsements, in fact, that Vice President Mike Pence — who stumped for Abrams' Republican opponent Brian Kemp — mockingly told a crowd, "I've got a message for all of Stacey Abrams's liberal Hollywood friends: This ain't Hollywood."
But how did all the high-profile support for Abrams turn out? As of Wednesday morning, Kemp had a slight lead over Abrams, who had not yet conceded in hopes of forcing a runoff in December.
In nearby Florida, Democratic gubernatorial candidate Andrew Gillum drew endorsements from Rihanna, Ava DuVernay, Gabrielle Union, Tracee Ellis Ross, Lee Daniels and Niecy Nash, according to the South Florida Sun-Sentinel. But such support wasn't enough to tip Gillum over the edge to victory — he conceded to Republican Ron DeSantis on Tuesday night after a heated race.
Although Gillum, Abrams and O'Rourke may have had the spotlight for much of the lead-up to the midterms, there were other candidates in different parts of the country who also enjoyed celeb support. Swift, who has historically stayed quiet when it comes to politics, notably endorsed Tennessee Democrats Phil Bredesen and Jim Cooper in their respective races in October.
But while the Swift-endorsed Cooper won his race for the House of Representatives, Bredesen lost his Senate bid to Republican incumbent Marsha Blackburn. And in Maryland, Chappelle phone-banked and door-knocked for gubernatorial candidate Ben Jealous, who lost to Republican incumbent Gov. Larry Hogan.
Despite the setbacks, some celeb-endorsed candidates did win clear victories Tuesday. Democrat Antonio Delgado, who was endorsed by actorvist Mark Ruffalo and Hamilton creator Lin-Manuel Miranda, won his race for Congress in New York. In Texas, congressional candidate Colin Allred and state House candidate John Bucy — both of whom Britton endorsed — won their respective races.
In addition, Democrat Katie Hill, who was endorsed by Kristen Bell, was leading in her race for California's 25th District as of Wednesday afternoon.
Celeb endorsements may be be headline-makers, but it's hard to say how much they affected Tuesday's midterm elections. The moral of this most recent election cycle might be that stars are just like us — there's only so much they can do.