West Virginia and Alabama voters pass anti-abortion measures for a future without 'Roe v. Wade'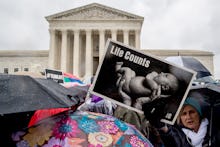 Anti-abortion ballot measures passed in West Virginia and Alabama on Tuesday, paving the way for state-level abortion bans should the Supreme Court overturn the landmark ruling Roe v. Wade.
Voters in West Virginia narrowly passed Amendment 1, known as the "No Constitutional Right to Abortion Amendment," with 51.7% of the vote Tuesday. The ballot measure will add the following language to the state's constitution: "Nothing in this Constitution secures or protects a right to abortion or requires the funding of abortion." The measure does not provide exceptions in cases of rape, incest or when the parent's life is at risk.
Although the right to undergo an abortion is still preserved at the federal level thanks to Roe v. Wade, the new language in the West Virginia Constitution "will prevent future judges from 'finding' in the state constitution either abortion rights or tax funding of abortions," advocacy group Vote Yes on 1 noted. Should Roe v. Wade be overturned, the amendment could provide legal justification for a state law that criminalizes abortion — which federal and state courts had previously found unconstitutional — to be reinstated.
"Right now, abortion is lawful," West Virginia University law professor Anne Lofaso told the Charleston Gazette-Mail prior to the amendment's passage. "States can regulate abortion but they cannot ban abortion prior to viability. But West Virginia has kept on the books a law that criminalizes abortion even though it was found to be unconstitutional. Therefore, [if] this constitutional amendment passes, that's one less protection on ... the woman's side of the debate."
"So this is what will happen: If Roe v. Wade is overturned, then advocates of the law to criminalize abortion would say that, 'Law is now in effect and it cannot be saved by the West Virginia Constitution,' if this amendment passes," Lofaso added.
The measure's passage will also limit how West Virginians on Medicaid can use their insurance for abortion, undoing a 1993 state Supreme Court decision that ruled Medicaid can be used for elective abortions. However, Medicaid will still be required to pay for abortions in cases of rape, incest, fetal abnormalities or when there's a threat to the mother, according to the Gazette-Mail.
Opponents also believe the measure will make it more difficult for abortion rights advocates to challenge state abortion laws in court; the amendment will force plaintiffs to challenge laws in federal court, which the Vote No on 1 coalition noted can be more costly and take longer than state courts.
"If Amendment 1 were to pass, women in West Virginia would have to rely on the federal courts to uphold the dignity to make their most private decisions with their doctors, their family and their faith," Joseph Cohen, executive director of the ACLU of West Virginia, told the Gazette-Mail prior to the amendment's passage. "We know we're in a position now where we can't rely on the federal courts to do that."
Alabama's Amendment 2, which passed Tuesday with 59% of the vote, will similarly make it state policy to "recognize and support the sanctity of unborn life and the rights of unborn children" and "ensure the protection of the rights of the unborn child in all manners and measures lawful and appropriate."
The amendment will also explicitly state that "nothing in this constitution secures or protects a right to abortion or requires the funding of an abortion." There are no exceptions in cases of rape, incest or when the life of the mother is at risk.
Much like in West Virginia, the Alabama measure will pave the way for an abortion ban should Roe be overturned.
"We want to make sure that at a state level, if Roe v. Wade is overturned, that the Alabama Constitution cannot be used as a mechanism by which to claim that there is a right to abortion," state Rep. Matt Fridy, who sponsored the legislation, said in March 2017.
Critics of the measure suggest its emphasis on granting rights to the "unborn child" could have consequences beyond abortion; the measure's broad language, they say, could affect embryos used in in vitro fertilization or potentially allow the state to prosecute women for using certain forms of contraception or having a miscarriage.
"In addition to banning all abortion care if Roe v. Wade is overturned, this amendment is so far-reaching that it would allow the state to prosecute women for using IUDs, emergency contraception and IVF or even for missing prenatal care appointments or not being able to leave an abusive partner," Katherine H. Ragsdale, interim president and CEO of the National Abortion Federation, said in a statement. "Instead of protecting Alabama women and families, Amendment 2 jeopardizes their health and well-being."
A third abortion ballot measure in Oregon, which would have banned the use of public funds to pay for abortions, ultimately failed, with 64% of voters opposing the measure.
The new constitutional amendments come as now-Justice Brett Kavanaugh's ascension to the Supreme Court raised expectations the court could move to weaken abortion rights or overturn Roe v. Wade entirely. In addition to West Virginia and Alabama, Mississippi, Louisiana, North Dakota and South Dakota already have similar "trigger laws" in place, which would automatically ban abortion in the event Roe v. Wade is overturned.