Yes, there were historic wins in the midterms — but racism too often taints the victories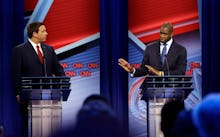 On the morning of Tuesday's elections, CNN chief media correspondent Brian Stelter irritated the living hell out of me. He quoted the Washington Post's national editor Steven Ginsberg on Twitter as Ginsberg encouraged reporters and editors to "embrace not knowing" what would happen later that night.
It was a sentiment echoed by many members of the press corps throughout the day. While the notion may sound noble on its surface, it only reminded me that far too many in the press corps are knuckleheads living in a white-privileged bubble. Too many of these journalists refuse to see the obvious even as it as presents itself boldly and loudly at various racist campaign rallies attended by folks into wearing stupid red hats. Donald Trump's win may have felt shocking, but it was not totally surprising given the country that elected him.
The lesson of the 2016 presidential election was not to "embrace not knowing." People should have learned that political candidates who present racism directly to an American electorate make it far too difficult for their political opponents and their supporters to overcome. Pretending no one could have known the outcome is just a lazy way for many white journalists to avoid facing certain truths others — ahem, black people — said in 2016. The aloofness and often willful ignorance from the likes of Stelter, Ginsberg and many other white journalists is infuriating, albeit completely unsurprising.
On Wednesday, I tortured myself further by watching news coverage of the results. I heard only a scant number of pundits acknowledge something about Donald Trump that was terrifying but nonetheless true: Trump's decision to ignore Paul Ryan's advice to campaign on the economy instead of the migrant caravan mythology was validated.
Trump's acolyte Ron DeSantis managed to defeat Andrew Gillum and prevent him from making history as the state of Florida's first black governor. DeSantis is a buffoon who fraternizes with racists, but, like Trump, it didn't matter because here's the reality: In statewide races in many regions across the country, all you have to do is coast on racism, bigotry and sexism to get elected.
And if you cannot solely win on that, you literally steal the election, as Brian Kemp has worked so aggressively towards in the Georgia governor race against Stacey Abrams. What Kemp has done throughout this race is despicable, yet there is not really a true national controversy surrounding it. The same goes for North Dakota, as indigenous tribes were targeted by voter ID laws which gave way to GOP victories. Voter suppression is not treated as a crisis because it does not impact white people. If it did, the problem would have been solved long ago.
However, regular servings of prejudice can do the trick all the same. Duncan Hunter is an indicted congressman who ran what had been described as "the most anti-Muslim campaign in the country," and he won. Steve King, a walking "Sieg heil!," won re-election. And as heartbreaking as it was to see Beto O'Rourke lose to the repugnant punk now commonly known as "Lyin' Ted," what's most frustrating is that, once again, a disappointing election result can apparently be directly linked to high support from white women for the more oppressive candidate. (For those of you who assumed a Beyoncé endorsement of Beto sooner might have changed the results, you can now shut up.)
That said, there are reasons to celebrate. The Democrats did manage to win control of the House of Representatives, and many of the wins that led to that result are historic.
At least 100 women will be serving in Congress in 2019. Alexandria Ocasio-Cortez became the youngest woman elected to Congress. Ilhan Omar became the first Somali-American elected to Congress. Rashida Tlaib will join Omar as the first two Muslim women elected to Congress. Ayanna Pressley became the first black woman from Massachusetts elected to Congress. Veronica Escobar and Sylvia Garcia became the first Latinx women from Texas elected to Congress. Sharice Davids and Deb Haaland became the first Native American women elected to Congress.
Jared Polis will become the first out gay man elected governor following his win in Colorado. Malcolm Kenyatta became the first black gay man elected to state representative in Pennsylvania. There are other firsts, but you get it: Everything isn't terrible.
The biggest glimmer of hope for me last night was Florida voters approving a constitutional amendment that will restore voting rights to nearly 1.6 million people with felony records. Of those Florida residents, a disproportionate amount of them are black. It should not be lost on anyone how different Wednesday might be for Andrew Gillum had the disenfranchised had a chance to vote on Election Day.
But even with those sparks of light, I can't help but be angry, and I am fearful of what is to come. By the end of the midterm elections, a Trump fan tried to blow up more than a dozen of the president's biggest critics. After that, a white supremacist in Kentucky shot and killed two black people at a grocery store — only after his attempt to barge into a church was thwarted. Soon after, though, a neo-Nazi killed 11 Jewish people in a synagogue in Pittsburgh. The president of the United States responded to this by peddling a racist lie about a migrant caravan of sick people and murderers storming the country to wreak havoc.
This strategy actually worked at least in the Senate because indecency cannot be totally toppled when gerrymandering and a racist electorate are there to maintain the status quo. This means Trump will likely become more vile and incite more violence — which makes it easy to conclude that his rhetoric is dangerous in terms of both future elections and the lives of the marginalized.
Trump's re-election campaign strategy will likely include more lies and racist dog whistles. That is probably what frustrates me so much about the likes of Brian Stelter and other well-compensated pundits paid handsomely for cluelessness and complacency.
They all speak about this as if it were a game. And because they talk about it that way, they can inhumanly ignore all the structural barriers for the rest of us because it doesn't impact them. I am so sick of media people who serve as referees of a game they are not even playing close attention to.
Trump just proved that you can literally refer to yourself as a "nationalist," create fantasies about criminal migrants and win because the system is designed to value one set of voters over the others. We will only get so far in a system like that, so peace to those who are actively working to challenge and ultimately defeat this system.
For those who take up the mantra "embrace not knowing" what will happen in a given American election, I pray you find an internal muzzle. We all know exactly how an election in this nation goes if left to white people and white supremacy. The question is, will that ever change?
The answer remains unclear, but things certainly won't ever change if white people keep pretending there aren't any problems to reckon with and then speaking accordingly.