Trump scolds defeated Republicans who rejected his endorsement before midterms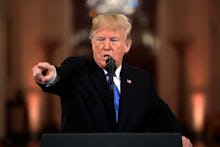 President Donald Trump on Wednesday chided House Republicans who were defeated in the midterm elections after turning down his "embrace," noting in a wide-ranging news briefing that those who rejected his endorsement "did very poorly."
"I'm not sure that I should be happy or sad," Trump said of the Republicans who lost their midterm contests. "But I feel just fine about it."
Trump scolded several defeated Republicans by name in his post-election news conference Wednesday, including Virginia's Barbara Comstock, Utah's Mia Love and Illinois' Peter Roskam.
"Mia Love gave me no love, and she lost," Trump said. "Too bad. Sorry about that, Mia."
Comstock, he said, "could've won he race, but didn't want an embrace." Roskam, too, "didn't want the embrace," Trump said.
Love, a Utah Republican, has not yet conceded her race, but was losing Wednesday to Democrat Ben McAdams. Comstock was defeated by Democrat Jennifer Wexton. Roskam was unseated by Democrat Sean Casten.
"The candidates that I supported achieved tremendous success last night," Trump said. "What we stand for meant a lot to most people."
His comments Wednesday came as he took a victory lap in the wake of the midterm elections. He has touted the results as a "tremendous" win, even though Democrats recaptured the House of Representatives. Trump on Wednesday cheered Republicans for having made gains in the Senate and for staving off what could've been worse losses in the House.
He also claimed that the Democratic win in the House could give him a "much easier path" to enact his legislative agenda, and expressed a desire for "both parties to join together."
"I'd like to see bipartisanship," Trump said. "I'd like to see unity."
But he also threatened to investigate Democrats if they launch House investigations into his own conduct — echoing a warning he issued on Twitter earlier in the day Wednesday.
Additionally, he relaunched Wednesday his attacks on Robert Mueller's Russia probe, which is poised to regain focus in the news cycle after the midterms, and continued to lash out against what he called the "hostile media."
He became particularly irate toward the press during the news conference following a heated exchange with CNN's Jim Acosta during which he referred to the White House reporter as a "rude, terrible person."
After the shouting match with Acosta, Trump continued to berate the media, getting into testy exchanges with other reporters and complaining that the press has treated him "unfairly."
He was asked several times about his hostile rhetoric and aggressive posture toward opponents and the media, which has been criticized for dangerously exacerbating divides in the United States.
While he said he would prefer to take a softer tone, he claimed he was merely fighting back against unfair treatment. Asked what could be done to bridge divides within the U.S., Trump claimed a strong economy would solve America's problems.
"We want to see it healed," Trump said. "And one of the things I think that can help heal is the success of our country. We are really successful now."
The president bragged a number of times about the U.S. economy, his "great relationships" with other world leaders and how much people want to work in his "hot White House."
He also claimed to be a "great moral leader."
Trump was frequently hostile in his comments to reporters Wednesday, including claiming that a black reporter's question about his claim that he is a "nationalist" was a "racist question."
"It's a very terrible thing that you said," Trump told the PBS reporter Yamiche Alcindor.
But he also said that he was "extraordinarily happy" with the election results Tuesday, seeming particularly pleased with victories by Republicans following his midterm endorsement blitz.
"I think people like me," Trump said. "And people like the job I'm doing."