Gun control lost in Florida on election night, but student activists vow to fight on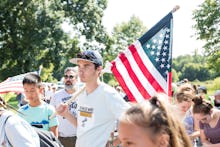 In the months since a mass shooting devastated Marjory Stoneman Douglass High School in Parkland, Florida, the teenaged survivors who emerged from the massacre as empowered advocates for gun reform have been heralded as savvy, precocious and wise beyond their years.
So it came as no surprise when, faced with crucial losses in Florida's senate and gubernatorial races on election night, those same young people were able to evaluate defeat with a kind of sage grace.
"A group of kids on a living room floor organized the largest protest in American history... a 63 day bus tour... over 200 chapters... registered hundreds of thousands of people... AND DEFEATED 27 (!!!) NRA BACKED CANDIDATES," organizer and MSD alumni Matt Deitsch tweeted on Wednesday morning. "I'm so proud of all of us. This is the beginning."
Although Florida's two progressive stars — Andrew Gillum, who had consistently polled ahead of his Republican rival during his bid to take control of the state's governor's mansion, and Bill Nelson, the incumbent senator who had faced a tough challenge from outgoing Gov. Rick Scott — both lost their races, gun control candidates had a good night nationwide.
Democrats, who took control of the House of Representatives for the first time since 2010, won back seats in four of the six House races the gun reform groups Everytown for Gun Safety and Giffords had poured the most resources into, according to data from the Trace.
And in a statement to Mic on Wednesday, March For Our Lives pointed out that each of the 35 seats Republicans were on track to lose in the midterms had belonged to NRA-backed candidates, a feat made possible in part by the historic youth voter turnout their movement had helped to inspire.
"While we are disappointed with the results in Florida, we are proud of the 35% youth turnout in our home state that made both these races even competitive, the statement read. "Our work has just begun, and we will continue to engage with young people in our state and across the nation to elect morally just leaders who have the courage to stand up to the gun lobby and protect our lives."
In response to the dual blows in her home state on Tuesday night, Parkland survivor Delaney Tarr offered words of encouragement.
"I know it's easy to feel defeated, guys," Tarr tweeted. "Trust me. I'm there too. But I know how fucking amazing it was that this many young people voted. Even with sad losses, the margins of those losses?? Incredible. Don't give up. This is just the beginning. I love you guys."
In the intervening months since an armed shooter stormed their Parkland high school, killing 17 students and members of faculty, the student survivors banded together to create a meaningful coalition of youth activists that undoubtedly helped propel anti-NRA candidates to victory on Tuesday night. Known as "March For Our Lives," the resultant gun violence advocacy organization had staged a series of global rallies in the spring. (At the flagship demonstration in Washington, D.C., an estimated 200,000 people were in attendance.)
The students later broadened their coalition to include not just survivors of school shootings but young people affected by gun violence in their communities more broadly, using their considerable platform to spotlight the young people of color whose stories are traditionally overlooked by media. Together, the activists embarked upon a 60-day, 24-state summer bus tour aimed at raising awareness around gun violence and lobbying for gun reform legislation.
As the results trickled in on Tuesday night, David Hogg — a MSD High School survivor and graduate, and one of the most visible members of the March For Our Lives movement — paid homage to the work the students had already done, but kept his eyes on the future.
"It just proves we have a lot further to go," Hogg told The Guardian. "This is going to be a long uphill battle."
Deitsch struck an even more upbeat tone.
"If you think I'm not in the office today organizing the next phase....." he tweeted.