Nintendo's latest 'Super Smash Bros.' game will remove racist Native American imagery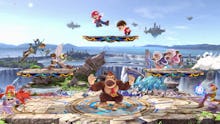 Nintendo prides itself on family-friendly characters like Mario and Pikachu. The company's latest move makes its characters just a bit more inclusive.
A character in the upcoming Super Smash Bros. title, Mr. Game and Watch, will have a racist animation removed from his repertoire of attacks. As first reported by DualShockers, one of Mr. Game and Watch's attacks in the new game has the character wear a Native American headdress and shoot flames at his opponent. The attack can be seen in one of Nintendo's recent gameplay videos.
In a response issued to EuroGamer, Nintendo said it will be tweaking the character's design in the game.
"Nintendo has been planning to distribute an update for Super Smash Bros. Ultimate that removes the feather from the silhouette of Mr. Game and Watch," a spokesperson for Nintendo told the publication on Wednesday. "The original game on which this depiction of the character is based was released more than three decades ago and does not represent our company values today."
Like many characters in the Smash series, Mr. Game and Watch's design and attacks are references to his appearances in other Nintendo games. Unlike the other characters, who appear in games for home video game consoles, Mr. Game and Watch made his debut in Nintendo's handheld game devices from the 1980s. The new version of Mr. Game and Watch's fire attack originates from a game called exactly that: Fire Attack.
Super Smash Bros. Ultimate releases on Dec. 7.