Jeff Sessions resigns as attorney general at Trump's request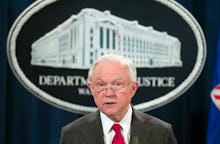 Attorney General Jeff Sessions resigned on Wednesday in a letter to President Donald Trump.
"At your request, I am submitting my resignation," Sessions wrote in the letter. "I have been honored to serve as attorney general and have worked to implement the law enforcement agenda based on the rule of law that formed a central part of your campaign for the presidency."
Sessions had been under attack from Trump for more than a year, and has been rumored to be on the president's chopping block for some time now. Trump's frustration with Sessions, one of the his earliest supporters, stems from the attorney general recusing himself from matters related to the Russia investigation in early 2017.
Matthew Whitaker, Sessions' chief of staff, will serve as acting attorney general, Trump announced Wednesday afternoon.
"[Whitaker] will serve our Country well," Trump tweeted. "We thank Attorney General Jeff Sessions for his service, and wish him well! A permanent replacement will be nominated at a later date."
Whitaker, who is now expected to inherit Robert Mueller's Russia probe from deputy attorney general Rod Rosenstein, has written in a CNN op-ed that the inquiry into the Trump campaign is "going too far." He has also discussed on the network the possibility of Trump reducing Mueller's budget "so low that his investigation grinds to almost a halt."
Trump frequently calls the investigation a "witch hunt," and has threatened to intervene on several occasions. He has also reportedly weighed firing Sessions or Rosenstein to hamstring Mueller's investigation.
Sessions' ouster could have a significant impact on that probe. Mueller is expected to deliver his key findings to the Department of Justice in the coming weeks. The person supervising the special counsel will have the authority to determine if those findings on questions of collusion and obstruction of justice are released to the public.
The person overseeing the FBI's Russia probe could also move to fire Mueller or starve the special counsel of DOJ resources, as Whitaker previously suggested.
Sessions was the first senator to endorse Trump, backing the reality star and real estate mogul's long shot campaign in early 2016. Sessions was such a big part of Trump's presidential campaign that he was even floated as a possible running mate.
Sessions, who is aligned with Trump's hardline immigration agenda, was nominated for attorney general days after the 2016 election. But he came under heavy scrutiny shortly after Trump took office following revelations about his undisclosed campaign contacts with the Kremlin, and recused himself from matters related to the probe.
That angered Trump, who told the New York Times in 2017 that he "would have picked somebody else" to lead his Justice department had he known Sessions would recuse himself.
Trump continued to deliver broadsides against Sessions on Twitter over the course of the past year, leading to speculation that he would move to fire him.
Even many Republicans had cautioned Trump against ousting Sessions. Sen. Lindsey Graham (R-S.C.) once said in an interview that there'd be "holy hell" to pay if the attorney general was axed — but Republicans have since appeared to come around to the idea.
"The president's entitled to having an attorney general he has faith in, somebody that is qualified for the job and I think there will come a time sooner rather than later where it will be time to have a new face and a fresh voice at the Department of Justice," Graham told reporters in August. "Clearly, Attorney General Sessions doesn't have the confidence of the president."
But Democrats, who have repeatedly called for legislation protecting Mueller, slammed the move and called for Whitaker to recuse himself from the Russia probe over his past comments about it.
"Clearly, the president has something to hide," Senate Minority Leader Chuck Schumer tweeted Wednesday. "Given his previous comments advocating defunding and imposing limitations on the Mueller investigation, Mr. Whitaker should recuse himself from its oversight for the duration of his time as acting attorney general."
Nov. 7, 2018, 4:54 p.m. Eastern: This story has been updated.