Mic Daily: Major takeaways in the wake of the midterm elections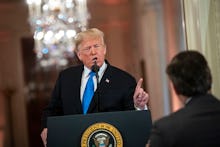 Good evening, folks, and happy Wednesday. Now that the initial wave of midterm election news has passed, let's take a zoomed-out look at the long game. What effects will Election Day 2018 have on the United States moving forward?
The 2018 midterm elections marked a night of historic firsts for women of color
Women of color made a major splash in the midterms at every level. These are the winners who are helping to change the face of American politics. Read more.
5 crucial social justice initiatives that passed around the country in the 2018 midterm elections
In addition to an infusion of women of color into government, the midterms also ushered in a number of important ballot initiatives related to criminal and social justice reform. Read more.
The Senate would have flipped to Democrats if only people under 44 had voted
The House flipping from red to blue was an all but certain outcome ahead of Tuesday, but some held out hope the Senate might flip hands, too. That didn't turn out to be the case, largely because voters over 44 showed up in droves. Check out the full story for a mock-up of how the map would've looked if only people under 44 had turned up at the polls. Read more.
Trump scolds defeated Republicans who rejected his endorsement before midterms
In the wake of losing the House majority, Trump doubled down on the importance of his endorsements Wednesday, taunting Republicans who rejected his praise. Read more.
The midterm elections are over — and the potential 2020 field is already looking crowded
I know we're all still digesting the results of Tuesday's elections, but — painful as it may be — it's worth looking ahead to the next big election, too. Read more.
Mic Daily is Mic's newsletter that cuts through the noise and lands in your inbox every weekday. We carefully curate each edition to send you a cross section of our most vital stories of the day.