Meet Matthew Whitaker, the Mueller critic Trump picked to oversee the Russia probe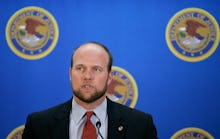 President Donald Trump on Wednesday announced that he had selected Matthew Whitaker to serve as acting attorney general after the ouster of Jeff Sessions.
"He will serve our country well," Trump tweeted of Whitaker.
Sessions was forced to resign Wednesday after more than a year under siege from Trump. Whitaker, who had served as Sessions' chief of staff, was put in his place and is expected to inherit authority over Robert Mueller's Russia probe — an investigation he's repeatedly criticized in writing, interviews and social media posts.
In an August 2017 CNN op-ed, Whitaker accused the special counsel of "going too far" and called on deputy attorney general Rod Rosenstein — who had overseen the investigation since Sessions recused himself from the matter — to impose limits on the probe.
"It is time for Rosenstein ... to order Mueller to limit the scope of his investigation to the four corners of the order appointing him special counsel," Whitaker wrote in the op-ed. "If he doesn't, then Mueller's investigation will eventually start to look like a political fishing expedition."
He also criticized the Mueller probe in appearances on CNN, where he had been a commentator, and in one panel discussion suggested starving the special counsel of Department of Justice resources to effectively shut the probe down.
The comments were unearthed after Trump named Whitaker acting attorney general, with Democrats and a number of observers suggesting the move was made as an effort by the president to obstruct the Mueller investigation.
Whitaker also has an extensive Twitter history.
While most of his social media activity is focused on sports and weightlifting, he has also weighed in regularly on political matters related to Trump.
He has criticized the Russia probe on numerous occasions, including suggesting that investigators were attempting to "intimidate" Americans by conducting a raid in 2017 on former Trump campaign chairman Paul Manafort.
He has also defended Trump against conflict of interest questions related to his Washington, D.C., hotel.
Trump's ties to Russia and unresolved conflicts of interest concerns related to his business empire are two matters Democrats are expected to investigate when they assume control of the House of Representatives in January.
Whitaker has also echoed Trump on policy matters, including the contention that former President Barack Obama enacted the Deferred Action for Childhood Arrivals program through an "illegal executive order."
In addition to his critical comments on the Russia investigation, Whitaker may also share Trump's hostility toward Democrats.
Before serving as Sessions' chief of staff, Whitaker served as executive director of the Foundation for Accountability and Civic Trust — a conservative watchdog group that has a history of going after Democrats, particularly Hillary Clinton, over alleged ethics violations.
Trump frequently accuses Clinton, his opponent in 2016, of wrongdoing — and has attacked Sessions in the past for not investigating her.
Sessions, one of Trump's earliest supporters, handed over his resignation Wednesday — one day after the midterm elections — after a more than a year of public broadsides from the president, whose anger with the attorney general stems from his decision in early 2017 to recuse himself from the Russia probe.
That put Rosenstein, a defender of Mueller's, in charge of the probe.
In apparently assuming the reins of that investigation, Whitaker will now have authority over Mueller and what's done with the key findings on collusion and obstruction that the special counsel is soon expected to deliver to the DOJ.
In light of Whitaker's critical comments on the probe, top Democrats have called on him to recuse himself from the investigation.