Today in Trump's America: White House cooks up fake excuse to revoke Jim Acosta's press pass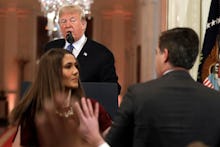 The midterm elections are in the rearview, but a few House races that had yet to be called have now been decided.
Democrats picked up two more House seats Wednesday night, when New Jersey's 3rd District and New Mexico's 2nd District were both called for the Democratic challengers.
In New Jersey's 3rd District, Democrat Andy Kim declared victory over GOP Rep. Tom MacArthur — one of the architects of Republicans' failed effort to repeal the Affordable Care Act last year. With the win, Democrats have now flipped four of the five Republican-held districts in New Jersey, putting the GOP at a historic congressional minority in the state.
In New Mexico's 2nd District, Democrat Xochitl Torres Small defeated Republican Yvette Herrell in an open-seat race that was held by GOP Rep. Steve Pearce. He vacated the seat to run for governor of New Mexico, but he lost to Democrat Michelle Lujan Grisham.
And on Thursday morning, GOP Rep. Karen Handel conceded to Democratic Rep.-elect Lucy McBath in Georgia's 6th District — which played host to an extremely expensive special election last year.
Here's what's happening in Trump's America:
• Trump's day begins at 9:30 a.m., when he and first lady Melania Trump leave the White House en route to the Supreme Court. Upon their arrival, they will have a meet and greet with the justices of the court before a 10 a.m. investiture ceremony for Justice Brett Kavanaugh.
About last night: White House revokes CNN reporter Jim Acosta's press credentials
The White House revoked CNN reporter Jim Acosta's press credentials late Wednesday night, falsely claiming Acosta assaulted a White House intern during a wild news conference with Trump earlier in the day.
Video clearly shows Acosta did nothing wrong. The intern was the one who tried to pull a microphone from Acosta's hand as he asked Trump questions during the news conference.
"President Trump believes in a free press and expects and welcomes tough questions of him and his administration," White House press secretary Sarah Huckabee Sanders said in a statement. "We will, however, never tolerate a reporter placing his hands on a young woman just trying to do her job as a White House intern. This conduct is absolutely unacceptable. It is also completely disrespectful to the reporter's colleagues not to allow them an opportunity to ask a question."
The revocation of Acosta's press pass has led to an uproar from the press corps.
"Trump @PressSec confirms that White House has suspended the hard pass of a reporter because it doesn't like the way he does his job," the New York Times' Peter Baker tweeted. "This is something I've never seen since I started covering the White House in 1996. Other presidents did not fear tough questioning."
CNN is standing by Acosta and called Sanders out for lying about the incident at the White House in which the intern initiated the contact by forcibly trying to pull the microphone from Acosta's hands.
"The White House announced tonight that it has revoked the press pass of CNN's Chief White House Correspondent Jim Acosta. It was done in retaliation for his challenging questions at today's press conference," CNN said in a statement. "In an explanation, press secretary Sarah Sanders lied. She provided fraudulent accusations and cited an incident that never happened. This unprecedented decision is a threat to democracy and the country deserves better. Jim Acosta has our full support."
Yet the White House is standing firm.
"We stand by our decision to revoke this individual's hard pass," Sanders said, posting a video of the incident that completely knocks down her own claim. "We will not tolerate the inappropriate behavior clearly documented in this video."
The move appears to be yet another distraction from Trump's behavior — this time the firing of Attorney General Jeff Sessions, which came earlier Wednesday afternoon.
Trump chose Matthew Whitaker to serve as acting attorney general, a former Sessions aide who has criticized special counsel Robert Mueller's investigation.
Whitaker — who now oversees Mueller's investigation — said in a 2017 op-ed in CNN that Mueller is "going too far" and said Deputy Attorney General Rod Rosenstein should limit Mueller's probe.
Whitaker now has the ability to decide what is released from Mueller's final report of his investigation into whether the Trump campaign colluded with Russia and whether Trump obstructed justice.
Today in Trump's America: Fallout from Trump's firing of Jeff Sessions
After Trump fired Sessions, some current and incoming Republican senators are warning acting Attorney General Matthew Whitaker not to mess with Mueller's probe.
"I have a lot of respect for Jeff Sessions and for his integrity, but the president has a right to his own cabinet member, subject to confirmation by the U.S. Senate," Tennessee GOP Sen. Lamar Alexander said in a statement. "The one thing this does make certain is that the Mueller investigation into Russian meddling in elections will continue to its end, as it should, because no new attorney general can be confirmed who will stop that investigation."
GOP Sen.-elect Mitt Romney also said in a statement, "It is imperative that the important work of the Justice Department continues, and that the Mueller investigation proceeds to its conclusion unimpeded."
Now that Democrats have won control of the House, the firing of Sessions could become their first investigation once they officially take control after the new Congress is sworn in come January.
Democratic Rep. Jerry Nadler of New York, the ranking member of the House Judiciary Committee who is expected to become chairman when the new Congress is sworn in, vowed to investigate.
"The firing of Jeff Sessions will be investigated and people will be held accountable," Nadler said in a statement. "This must begin immediately, and if not, then a Democratic Congress will make this a priority in January.
And the rest...
Another mass shooting: Americans woke up Thursday morning to yet another mass shooting in this country, this time at a bar in Thousand Oaks, California, where college students were gathered for "college country night."
At least 12 people were killed in the shooting, including police officer Ron Helus, a 29-year veteran of the force.
Ballot counting: Hundreds of thousands of ballots are still outstanding in key races across the country, including Arizona's Senate race — where Republican Martha McSally leads Democrat Kyrsten Sinema by a slim margin — as well as a handful of key California House seats. There could also be a recount in Florida's Senate race, where provisional ballots could be challenged. The remaining ballots could shift the race toward Democrats.
What if...: Your newsletter author crunched some exit poll numbers and found that if the electorate was comprised only of voters under the age of 44, Democrats would have flipped the Senate and won a number of key gubernatorial contests. While young people turned out in higher numbers in 2018, the demographic was still far outnumbered by older voters who broke for the Republicans.