Hype Daily: Donald Trump doesn't remember Lil Jon and more entertainment news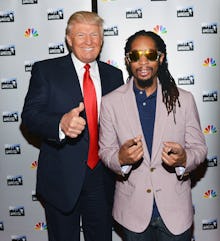 Greetings Hype Daily fans, and welcome to Thursday. Let's pull out our magnifying glasses and take a close look at today's entertainment news.
Trump seems to have no idea who Lil Jon is — even though he was on The Apprentice
On Wednesday, during a press conference, President Donald Trump was asked about the racist things he's alleged to have said in the past, including referring to former Celebrity Apprentice contestant and rapper Lil Jon as an "Uncle Tom." Trump's responded, "I don't know who Lil Jon is; I really don't," according to Entertainment Weekly.
That's extremely odd, considering Lil Jon is both famous and was a two-time contestant on Celebrity Apprentice. And, as Entertainment Weekly pointed out, Trump has referred to him as a "true talent and great friend." When reminded on Wednesday that Lil Jon was on his show, Trump reportedly said, "Oh, he was? Oh, I see."
Missy Elliott is the first woman rapper nominated to the Songwriters Hall of Fame
Missy Elliott made history on Wednesday when she became the first woman rapper ever nominated to the prestigious Songwriters Hall of Fame, according to the Associated Press.
Elliott, who has also written songs for stars like Beyoncé and the late, great Whitney Houston, is one of the new crop of 2019 nominees. There are only two rappers who've ever been inducted into the Songwriters Hall: Jay-Z and Jermaine Dupri. If she makes it, Elliott would be just the third rapper ever to join. Now it's up to the eligible members of the organization to vote on this year's nominees.
Vince Gilligan is reportedly working on a Breaking Bad movie
Breaking Bad creator Vince Gilligan is reportedly working on a two-hour Breaking Bad movie, according to the Hollywood Reporter. We don't really know any details yet, like whether or not the movie will air on television or screen in theaters, or if it will take place before or after the events of the show.
But, according to the Hollywood Reporter, "sources" say Gilligan is writing the script, and the working title for the project seems to be Greenbrier. It's rumored to begin production in New Mexico in November. Per the Hollywood Reporter, the project will focus on "the escape of a kidnapped man and his quest for freedom." Perhaps it's Jesse Pinkman?
Emma Thompson became a dame
Prolific British actor Emma Thompson officially became a Dame Commander of the British Empire in a ceremony at Buckingham Palace on Wednesday, the Los Angeles Times reported. That's the women's equivalent of a knighthood, for those of you wondering.
Apparently, while receiving her "investiture pin" from Prince William, whom she said she's known since he was little, Thompson asked if she was allowed to kiss him during the event. He turned her down, maybe because you're not supposed to interrupt solemn British ceremonies with kisses? Anyway, congrats Dame Emma!
Put this on your radar: Oprah's favorite things
It's that time of year again — Oprah Winfrey released her annual "favorite things" list, just in time for the holidays. It's got caftans and peppermint bark and a $1,300 television. Check out the full list here.
This has been Hype Daily, Mic's morning entertainment roundup. It's everything you need to catch up on in the entertainment world and what to look forward to today. Want to receive this as a daily email in your inbox? Subscribe here.