Ruth Bader Ginsburg hospitalized after falling in Supreme Court office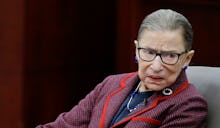 Ruth Bader Ginsburg was admitted to the hospital for observation Thursday morning after falling in her Supreme Court office Wednesday evening.
According to reports, the associate Supreme Court justice fractured three ribs in the fall.
Ginsburg, 85, has served on the nation's high court since 1993 and is currently the oldest of the nine serving justices.
She is a progressive icon and is part of the court's liberal minority, with Stephen Breyer, Sonia Sotomayor and Elena Kagan.
Despite occasional speculation that she may retire, Ginsburg suggested in August that she has at least five more years on the Supreme Court. She has hired clerks for at least two more terms, according to CNN.
Anthony Kennedy, who had been the court's second-oldest associate justice, retired from the bench in July at the age of 81, giving President Donald Trump his second Supreme Court pick.
Trump's first pick, Neil Gorsuch, was confirmed in 2017 to replace the late Antonin Scalia.
Trump's second pick, Brett Kavanaugh, was confirmed in October following a contentious nomination process in which he was publicly accused of sexual misconduct.
Ginsburg, who was selected to the court by former President Bill Clinton, was reportedly in George Washington University hospital Thursday morning for treatment and observation after experiencing discomfort in the wake of the fall.