Alleged shooter who killed 12 at California bar identified as former Marine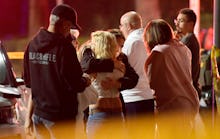 Authorities have identified the alleged shooter who killed 12 and wounded several others in a mass shooting late Wednesday at a bar in Southern California as Ian David Long, a former Marine.
Long, 28, is believed to have killed himself after allegedly gunning down a dozen others, including a law enforcement official, at the Borderline Bar and Grill in Thousand Oaks, California, according to Ventura County Sheriff Geoff Dean.
The massacre, which also injured multiple people, appears to be the deadliest mass shooting in the United States since the shooting in February at Marjory Stoneman Douglas High School in Parkland, Florida, according to the Associated Press. That shooting killed 17 people.
Wednesday's shooting came as Borderline hosted its weekly college night, and the country bar was crowded when the shooting occurred. The bar is located near several colleges, including Pepperdine University.
Dean told the media Thursday that Long allegedly used a Glock 21 .45-caliber handgun.
Long is also said to have deployed a smoke bomb in the shooting, according to law enforcement authorities.
He allegedly killed 12, including Sheriff's Sgt. Ron Helus — a 29-year veteran of the police force.
Dean appeared emotional as he briefed the press on the shooting Wednesday night, and choked back tears as he announced Helus' death.
Asked during another press briefing on Thursday morning to describe the scene, Dean replied: "Like hell."
Dean, who also told reporters he is set to retire on Friday, said Thursday morning that authorities could not yet publicly provide the identities or age range of the victims.
The motive was not clear Thursday morning.
The shooting in Thousand Oaks, about 40 miles outside Los Angeles, came on the heels of an anti-Semitic gun attack on a Pittsburgh synagogue that killed 11 people.
Sen. Kamala Harris (D-Calif.) tweeted early Thursday her "heart aches to learn about the horrific shooting" and called on Congress to act to prevent such tragedies in the future.
"Leaders in Congress must act — not some day, but now," the California senator wrote.
President Donald Trump, who has resisted calls for gun control in the wake of other high-profile shootings during his time in office, was briefed on the Borderline shooting and tweeted early on Thursday that the incident was "terrible" and that there was "great bravery shown by police."
"God bless all of the victims and families of the victims," Trump tweeted. "Thank you to Law Enforcement."