The Movement Must-Reads: Women of color win the midterms, black Republicans fight for House seats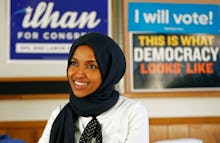 The 2018 midterm elections have wrapped, and there is a lot to digest on what the results mean for social justice movements going forward. This week's Movement newsletter will dig into those stories.
This includes a look at five crucial social justice-related measures that passed, the many history-making politicians and a voter suppression lawsuit filed against Brian Kemp.
Read on for more.
From Mic:
Chauncey Alcorn looks at how the two remaining black Republicans in the U.S. House of Representatives are fighting to hold on to their seats. Alcorn also wrote about Florida passing a measure that will allow formerly incarcerated people to vote in future elections.
My roundup of other crucial social justice-related measures that passed across the United States, including one protecting transgender people's rights in Massachusetts. I also listed the women of color candidates who made history after winning their races. Another piece highlighting Lucy McBath, the gun safety activist who won her congressional race. And my fourth report on Georgia voters who filed a lawsuit barring Brian Kemp from counting votes in his own race.
Also get into this thorough op-ed from Michael Arceneaux on how racism tainted some of the major victories in this year's election season.
From elsewhere:
From the Atlantic, a look at the long tradition of shaming black voters.
Think Progress reports on how white voters in Stockbridge, Georgia, attempted to secede from their black-led town and failed.
And for a break from election related news, the New York Times Magazine explores why Asian-Americans remain largely unseen in film and television.