"Nelson is going to be declared the winner": Dem lawyer predicts victory in Florida Senate recount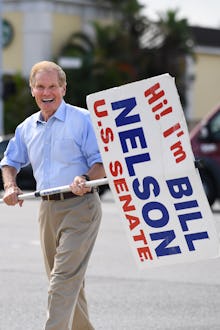 A top Democratic lawyer working for Florida Democratic Sen. Bill Nelson predicts that the Sunshine State Senate race is headed for a hand recount, and that Nelson could prevail over his GOP opponent, Gov. Rick Scott.
"Currently Sen. Nelson trails by fewer than 22,000 votes," lawyer Marc Elias, a partner at the law firm Perkins Coie who has helped Democrats in recounts in the past, said on a conference call with reporters, according to Roll Call. "I expect that that is going to close."
Elias — who helped Al Franken win a recount in Minnesota after the 2008 election — said the race is a "jump ball" and that Nelson could pull ahead.
Scott leads Nelson by 0.2 percentage points, or 21,986 votes, according to data from the Associated Press.
"We believe that at the end of this process, Sen. Nelson is going to be declared the winner," Elias said on the call.
As for the governor's race, where Republican Ron DeSantis has been declared the winner over Democrat Andrew Gillum, that race could also be headed for a recount.
Gillum conceded the race Tuesday night, but his campaign released a statement Thursday saying they are preparing for a possible recount.
"On Tuesday night, the Gillum for Governor campaign operated with the best information available about the number of outstanding ballots left to count," Gillum spokesperson Johanna Cervone said in a statement. "Since that time, it has become clear that there are many more uncounted ballots than was originally reported."
"Mayor Gillum started his campaign for the people, and we are committed to ensuring every single vote in Florida is counted," Cervone said.
DeSantis leads Gillum by 0.6 percentage points, outside the range of an automatic recount. DeSantis' raw vote lead is 43,039.