Airlines waste incredible amounts of food. Here's how some are trying to do better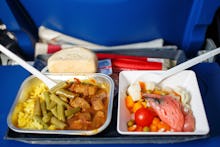 Gordon Ramsay refuses to eat airplane food, and Anthony Bourdain abided by the same philosophy. "No one has ever felt better after eating plane food," Bourdain told Bon Appetit in 2016. "I think people only eat it because they're bored. I don't eat on planes. I like to arrive hungry."
Whether for its taste or otherwise, airplane food is wasted every day. In 2016, the International Air Transport Association estimated that airlines produced 5.2 million tons of waste, the Guardian reported. Nearly all of this waste, which included partially eaten food, single-use plastics and mini liquor bottles — as well as inevitable things like toilet waste — was incinerated or left in landfills. Neither disposal practice does any good for the environment.
As Skift recently reported, air carrier EasyJet is starting to use data to anticipate consumer needs, making decisions based off algorithms created by its data scientists. "The airline learned demand for many items was far different on a 6 a.m. flight to Edinburgh than on a Friday night flight to Ibiza," Skift reported. "But because it was stocking the wrong items on many routes, it calculated it was throwing away three fresh food items after each flight."
With these calculations, the airline figured out that it has been wasting approximately 800,000 fresh food items per year, which equates to millions of dollars.
Flight delays don't help the case. According to a report from Business Insider, meals from United Airlines are prohibited from sitting for more than six to eight hours before boarding a plane. If a flight gets delayed for a few hours, all of the meals are tossed and have to be replaced with new food. The sad irony of the food waste crisis is that 815 million people in the world are hungry, while there is enough food on the planet to feed everyone.
The environmental toll of air travel is well established, and companies are working to find innovative solutions to undo and prevent their future impact. Below are some of the ways things are changing for the better.
JetBlue composts and has a "farm-to-air" program
JetBlue launched its T5 Farm, a 24,000 square foot plot located at the John F. Kennedy Airport in Queens, New York, in 2015. Some of the farm's harvest is donated to local food pantries and given to the company behind the airline's iconic Terra Sweets and Blues Chips. JetBlue composts food left over from restaurants in Terminal 5, bringing about 300 pounds of food waste to an organic farm in upstate New York every day. The compost is then used to create nutrient-rich soil, which is ultimately brought back to the airport farm to grow foods like leeks, arugula, beets, kale, herbs and carrots. According to the company, the farm's composting program "put 100,000 pounds of food waste back to work" in 2016.
American and Delta Airlines are eliminating plastic straws
American Airlines announced in July that it would be doing away with plastic straws and stirrers in both its lounges and flights, replacing them with biodegradable, eco-friendly straws and wood stirrers. The brand said it will also begin transitioning to more sustainable cutlery in its lounges. According to a press release, the swaps will eliminate more than 71,000 pounds of plastic annually.
Delta Airlines announced similar news in October. It is removing stir sticks, wrappers, utensils and straws from its aircraft and Delta Sky Clubs. The company said it expects to eliminate more than 300,000 pounds in plastic waste a year.
Virgin Australia — and other airlines — redistributes unused airplane food to those in need
OzHarvest, a food rescue organization, will pick up uneaten airline food, including packaged meals, fruit and cereals and drop off the goods to more than 1,300 charities in Australia. The organization rescues more than 180 tons of food every week from supermarkets, hotels, airports and more.
Founder Ronnie Kahn told Food Tank in an interview that OzHarvest rescues about 160 tons of food from its airline partners, including Virgin Australia, Qantas and the Brisbane Airport every year. The number equates to around 480,000 meals. Kahn said that global interest has the organization duplicating its strategy in the U.K., Thailand and South Africa.
Air New Zealand repurposes unused food across flights
Before its Project Green initiative, uneaten food from Air New Zealand flights was sent to landfills. But since the recycling program took effect in 2017, uneaten food can be taken from one aircraft and transported to another. The program anticipates it will redirect 150 tons of food to people rather than landfills annually, a press release stated.