Mic Daily: Court strikes down Trump's attempt to dismantle DACA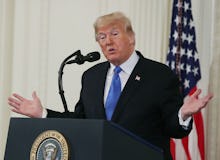 Good evening folks, and happy Thursday. Before we jump into today's news, I'd like to extend some well wishes to Supreme Court Justice Ruth Bader Ginsburg, who was admitted to the hospital Thursday, reportedly with three fractured ribs after falling in her Supreme Court office. Get well soon, RBG!
These are the top five stories out of Mic today.
What Democrats continue to fail to understand about white women voters
In the wake of the 2018 midterms, Democrats' attention turned once more to white women, throwing their hands up in disbelief at their continued overwhelming support for Republican candidates. According to Mic's Chauncey Alcorn, white women's support of right-wing candidates is nothing new — and that gender politics isn't the way to winning them over. Read more.
Federal appeals court delivers blow to Trump's plans to cancel DACA protections
On Thursday, a federal appeals court struck down the Trump administration's attempts to roll back protections against former President Barack Obama's Deferred Action for Childhood Arrivals program. Read more.
Two remaining black Republicans in U.S. House fight for their political lives in close midterm races
Tuesday's midterm elections delivered rousing success for candidates of color in the Democratic Party. But for black Republicans? Not so much. Read more.
The Opal, a "non-browning apple" is here — and it's made without any GMOs
The apple of the future is here, and it's one that doesn't brown. Well, OK, it still gets brown — we put it to the test — but much more slowly than a garden-variety supermarket Granny Smith. Read more.
Man who smashed Donald Trump's star on the Hollywood Walk of Fame receives brief sentence
Austin Michael Clay smashed up Trump's star on the Hollywood Walk of Fame over the summer, and now, it's time for the 24-year-old to pay up for his crimes — literally. Read more.
Mic Daily is Mic's newsletter that cuts through the noise and lands in your inbox every weekday. We carefully curate each edition to send you a cross section of our most vital stories of the day.