This Week in Food and Travel: Cage-free eggs will soon be an industry standard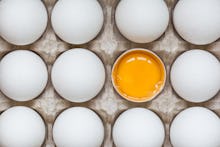 Election stories — including the 10th state to legalize recreational marijuana — dominated the news this week, but you may have missed the one about Californians voting "yes" on Proposition 12. If you're not familiar, the Animal Confinement Initiative gives more specifics on the space requirements for egg-laying hens, calves raised for veal and breeding pigs. One big implication from the bills passing? Cage-free eggs are about to become ubiquitous.
While some are hailing Prop 12 as the country's most progressive animal welfare law yet, others, including the always-controversial group PETA, are disappointed to see it pass.
Beyond midterm results, this week we explored how Taiwanese restaurants in NYC are working together to find success, a non-GMO apple that has nonbrowning superpowers and one of the funniest, most affordable items on Oprah's 2018 list of Favorite Things.
A more humane breakfast staple is coming to a grocery store near you.
Three new restaurants showcase the best of Taiwanese cuisine: beef noodle soup, oyster omelette, stinky tofu and more.
When you cook with it, you can envision yourself cooking like Oprah might.
The Opal apple is the only non-GMO certified apple in the country, and it won't turn brown as soon as you slice it.