Anthony Bourdain's 'Parts Unknown' finale is a love letter to New York, the city he called home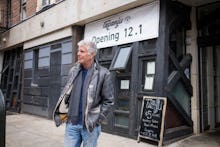 Can the magic of New York City live on forever? Can the legacy of one decade be as lively and glorious as the one before it? In the final episode of Parts Unknown, Anthony Bourdain grapples with these questions, with a focus on the Lower East Side.
In the '70s and '80s, Bourdain embodied the punk life in the neighborhood that was home to everything grunge, gangs, sex and drugs. At the same time, the Lower East Side was a breeding ground for many musicians and artists. Rent was cheap and creative outcasts flocked to the area between 14th Street and Houston.
In the series finale, Bourdain returns to the area and emphasizes how much it's changed: Whole Foods, Target and bougie gyms have replaced the rebellious neighborhood of his punk rock youth. Throughout the episode, in which food is just an undertone, Bourdain speaks to some of the greats who flourished in the Lower East Side when it was at the height of the so-called glory days. (If you're a New Yorker, you can't help but jump off your couch at the spots you recognize — this writer felt delighted over Ray's cameo.)
Something feels right about Bourdain's last episode taking place in New York City. The story is as much about him as it is about the characters he interviews. We're able to see him as a multifaceted figure, not just one of the best travel show hosts that ever lived. He points out the locations of long-gone dope houses where he used to score his heroin. "I came for heroin and I came for music," he says. Later in the episode, we see him dining at Jean-Georges' celeb hotspot Public Kitchen.
At the hotel restaurant he is accompanied by Lydia Lunch, a bawdy punk icon who, when asked if she ever thought she'd make money from her art back in the day, responds with, "I just was happy I didn't have to suck dick in an Iranian shoe store." The episode's contradictions are amusingly audacious.
Bourdain tries to evoke some longing out of Lunch, but she won't bite. He asks her if she's nostalgic for the '70s. "No!" she shouts back at him. "Those were the bad old days, baby." Lunch, like many of the people Bourdain speaks with, assures him that New York City is always changing, and that's part of what makes it beautiful. "It's New York, get used to it," she says.
Has the Lower East Side turned into a spot for "projectile vomiting frat boys with baseball caps on backwards," as Bourdain describes? "Look at the history of New York City: It's always about hustling and change," filmmaker Jim Jarmusch tells him. "And if you want it to stay the same, you got the wrong historical spot."
New York's incongruities are what make the city worth pining for. Joe Coleman, an artist whose work is inspired by much of the Lower East Side, tells Bourdain exactly this. "You have Wall Street tycoons fighting for huge amounts of wealth and you have bums fighting over pennies," he says. "It has a primal awe."
Throughout the episode, Bourdain talks to those he considers the crux of New York's punk golden age: We meet Debbie Harry of Blondie; Jim Power, who's been adorning city streets with mosaic tiles for the past 30 years; Danny Fields, a music manager who's credited with discovering the Ramones, the Stooges and Iggy Pop; Richard Hell, who Bourdain says gave the Sex Pistols all of their inspiration; and so many more.
While food isn't the focus of the storyline, Bourdain does visit old-school standbys that have outlasted the city's many changes, showcasing pierogis from Ukrainian diner Veselka, imitable matzo ball soup from B&H Dairy, egg creams from Ray's Candy Store and many mouthwatering plates from El Castillo de Jagua.
And through it all, what we learn is this: Everybody has their own New York. In this final episode, we get a glimpse of Bourdain's version, and how fond of it he was. The entire episode plays out like one big trip, with more special effects and careful editing choices than we've seen in recent seasons. The care the producers put into the episode only further reminds us how much we'll miss spending our Sunday nights with Bourdain.