Today in Trump's America: Recount roils Florida Senate race as Democrats show optimism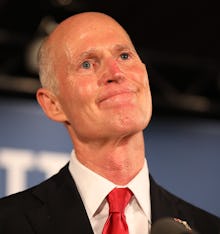 TGIF, readers. It's been an absolutely jam-packed week. From the midterm elections on Tuesday to the firing of Attorney General Jeff Sessions to Trump announcing changes to asylum law that are sure to spark a fierce legal challenge, we've had enough news this week to last a year. And things don't seem like they'll slow down anytime soon.
Here's what's happening in Trump's America:
• Trump leaves Washington en route to Paris to commemorate the 100th anniversary of the end of World War I. He departs the White House at 9:10 a.m. along with first lady Melania Trump. It's unclear if he will gaggle with reporters before getting onto the Marine One helicopter, but if he does, expect him to pop off about the ballot counting in Florida.
About last night: Ballots are still being counted, and Democrats are gaining votes
Ballots are still being counted in a number of key midterm races across the country, including in Arizona, California and Florida, opening the chances of Democrats winning more House and Senate races — adding to the bevy of evidence that Tuesday was a true blue wave.
In Arizona, Democratic Rep. Kyrsten Sinema has now taken the lead in Arizona's Senate race against GOP Rep. Martha McSally, after some of the hundreds of thousands of remaining ballots were counted. Sinema now has a 9,610 vote lead over McSally. In percentages, Sinema leads 49.1% to 48.6%. With the remaining ballots, FiveThirtyEight's Nate Silver rates the race a "toss-up."
In Florida, the Senate race between Democratic Sen. Bill Nelson and GOP Gov. Rick Scott is now in hand recount territory. Ballots continue to be counted in Broward County, and Scott is maintaining a lead, 50.1% to 49.9% — or 15,071 votes of the more than 8 million cast. Democratic super lawyer Marc Elias — who has run multiple successful recounts for Democrats — has been bullish about Nelson's prospects, saying on Thursday that he expects Nelson to be re-elected.
Scott, for his part, is suing the Broward County election supervisor Brenda Snipes, and he asked state law enforcement to investigate Snipes, claiming with no evidence she is trying to "steal this election." In fact, election officials in the county are merely trying to count all of the ballots cast.
Trump, true to form, has taken things to the next level by alleging — again with zero evidence — there is "election fraud." As my family asks around the Seder table during Passover, ma nishtana halailah hazeh, "Why is tonight different from all other nights?"
Today in Trump's America: How many Scaramuccis will Matthew Whitaker last?
Damaging information from opposition research against acting Attorney General Matthew Whitaker is coming fast and furious, with some Republicans now saying Trump didn't even have the constitutional authority to appoint Whitaker as Sessions' replacement.
Whitaker has never been confirmed by the Senate, raising questions about whether the president legally could appoint him to succeed Sessions until a long-term replacement is nominated.
And if that wasn't bad enough, Whitaker's record is coming back to haunt him, with multiple damaging stories being dropped about his past conduct and comments.
On Thursday night, the Washington Post reported that in 2017 federal investigators looked into Whitaker's role at World Patent Marketing, an invention-promotion company accused of fraud.
The Federal Trade Commission ultimately filed a complaint against the company, of which Whitaker sat on the board, for allegedly "misleading investors and falsely promising that it would help them patent and profit from their inventions," according to the Washington Post.
The New York Times reported Thursday night that Whitaker called the judiciary branch the "inferior branch" and criticized the Supreme Court's power of judicial review.
"There are so many" bad rulings, Whitaker said of the Supreme Court. "I would start with the idea of Marbury v. Madison. That's probably a good place to start and the way it's looked at the Supreme Court as the final arbiter of constitutional issues."
The Des Moines Register — which covered Whitaker's failed 2014 Senate run in Iowa — wrote numerous pieces at the time accusing Whitaker of making politically motivated prosecutions against a Democratic state lawmaker, who they said Whitaker targeted for being out as gay.
The Des Moines Register also reported in 2014 that Whitaker said he would only back judges who had a "biblical" view of justice from the New Testament, which would mean he would bar anyone who wasn't Christian from serving as a judge.
This is all, of course, secondary to Whitaker's comments about special counsel Robert Mueller's investigation, which Whitaker oversees as acting attorney general. Whitaker has criticized Mueller's investigation on multiple occasions.
CNN reported Thursday there is "concern" at the White House about the reaction to Whitaker's appointment raising the question: How many Scaramuccis will Whitaker last? Former White House Communications Director Anthony Scaramucci made it 10 days in his role before he was forced out. So far, Whitaker isn't even three full days in.
And the rest...
Asylum changes: The Trump administration announced on Thursday it is changing the rules to allow the president to deny asylum to any migrant who illegally crosses the border. Current law allows people fleeing violence and political prosecution to seek asylum in the U.S. The move comes after Trump railed against a migrant caravan moving toward the U.S. from Central America. The rules are sure to spark legal challenges.
DACA: A federal appeals court on Thursday ruled Trump cannot revoke protections granted to undocumented immigrants who came to the U.S. as minors. The court ruled Trump's cancellation of the Deferred Action for Childhood Arrivals program was "arbitrary, capricious or otherwise not in accordance with law." The ruling sets the case to head to the Supreme Court.
Keystone XL: In more legal news, a federal judge in Montana blocked construction of the Keystone XL oil pipeline, ruling that the Trump administration "simply discarded" the pipelines potential effects on climate change and that the government must fully review the environmental impact before construction can move forward. Approving the disputed pipeline was one of the first acts Trump took after he was sworn into office.