Hype Daily: Tamera Mowry's niece among the victims of deadly shooting and more entertainment news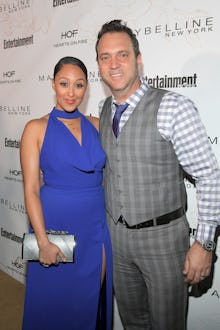 Good morning Hype Daily readers — it's finally Friday. Whether this week flew by for you or trudged along slowly, it's about to come to an end. Let's take a look at the day's entertainment news.
Tamera Mowry-Housley confirms her niece was among the victims of the Thousand Oaks shooting
Yet again, Americans are mourning another deadly mass shooting — this time at the Borderline Bar and Grill in Thousand Oaks, California. In a statement on Thursday, Sister, Sister star Tamera Mowry-Housley and her husband, Adam Housley, confirmed that one of the 12 people killed in the Thousand Oaks shooting was their 18-year-old niece Alaina Housley, a freshman at Pepperdine University.
"Our hearts are broken," they told USA Today in a statement. "We just learned that our niece Alaina was one of the victims of last night's shooting at Borderline bar in Thousand Oaks ... Alaina was an incredible young woman with so much life ahead of her, and we are devastated that her life was cut short in this manner."
Mowry-Housley also posted photos of Alaina to her Instagram with the caption, "Alaina. My sweet, sweet Alaina. My heart breaks. I'm still in disbelief. It's not fair how you were taken and how soon you were taken from us. I was blessed to know you ever since you were 5. You stole my heart. I will miss our inside jokes, us serenading at the piano. Thank you for being patient with me learning how to braid your hair, and I will never forget our duet singing the national anthem at Napa's soccer game. I love you. I love you. I love you."
Gabrielle Union and husband Dwyane Wade welcome a new baby
We could all use some good news, right? Gabrielle Union and her husband, NBA player Dwyane Wade, announced on Thursday that they have a new baby, their first child together, born via surrogate. "A LOVELY DAY. We are sleepless and delirious but so excited to share that our miracle baby arrived last night via surrogate and 11/7 will forever be etched in our hearts as the most loveliest of all the lovely days," Union wrote on Instagram.
Union has been open about struggling with infertility in the past — she even talked about it in her 2017 book, We're Going to Need More Wine. The family hasn't yet announced the name of their new arrival, so stay tuned for that.
Brooklyn 99 has a new premiere date
The police precinct comedy Brooklyn 99, which was canceled by Fox and then picked up by its new network, NBC, now has a premiere date for its upcoming sixth season. The show will have its NBC debut on Thursday, Jan. 10, and will air in the 9 p.m. slot currently filled by Will & Grace, Deadline reported on Thursday. Let the resurrection begin.
Ariana Grande broke a Spotify record
Singer Ariana Grande's new break-up anthem "Thank U, Next" is proving to be a major hit. Forbes reported this week that the song broke the Spotify global record for single-day streaming for a female artist — two days in a row.
First on Monday, it set a new record when it was streamed nearly 8.2 million times, and then again on Tuesday, when it was streamed 8.5 million times. Grande beat out a record previously held by Taylor Swift, whose song, "Look What You Made Me Do," was streamed 7.9 million times in a single day in 2017. Congrats, Ariana — this proves that talking about your exes is a great business strategy that we should all try.
Put this on your radar: The new Mowgli trailer
The visually stunning new trailer for Andy Serkis' upcoming Jungle Book adaptation Mowgli is here. And no, this has nothing to do with the recent live-action Jungle Book movie from Disney — this is completely different and it looks amazing. This adaptation, headed to Netflix in December, uses motion-capture technology to create the talking animals, Gizmodo reported on Thursday, and it looks good. Check out the trailer here.
This has been Hype Daily, Mic's morning entertainment roundup. It's everything you need to catch up on in the entertainment world and what to look forward to today. Want to receive this as a daily email in your inbox? Subscribe here.